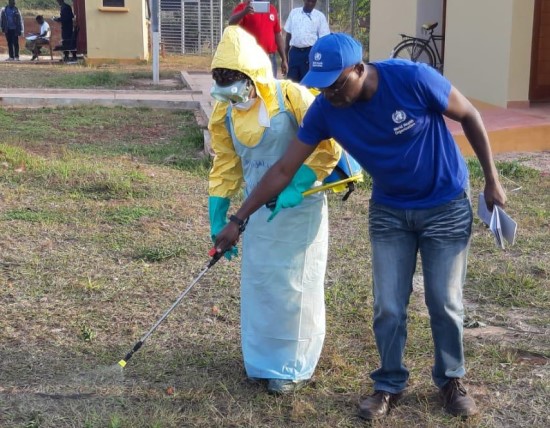 14 Aug

Building Capacity for Ebola Preparedness and Response in Tanzania

Tanzania, which has never dealt with the Ebola virus disease, is at high risk for an Ebola outbreak. Its neighbor, the Democratic Republic of Congo (DRC), has had more than 2,800 reported cases of Ebola since the beginning of the year. With the constant movement of people between the Tanzania and the DRC, Tanzania urgently needed to increase capacity to prepare for and manage an Ebola outbreak, especially in border regions.

From June 29 to August 9, 2019, USAID's HRH2030 program, in partnership with the Government of Tanzania, the World Health Organization, USAID's Global Health Supply Chain Task Order, the Food and Agriculture Organization, and the Red Cross organized and implemented Phase I of the Ebola Preparedness Activity. Phase I kicked off in two high-risk regions: Kagera, in Tanzania's northwest on the shores of Lake Victoria, and Kigoma, also in the northwest, and close to the borders of the DRC, Uganda, Rwanda, and Burundi.

In both regions, the preparedness activity began with a "tabletop" or discussion-based exercise in the regional capitals. Representatives from the region and all districts reviewed their Ebola Outbreak standard operating procedures and worked through hypothetical outbreak scenarios. Following the exercise, site simulations were conducted in several high-risk district health facilities and points of entries within these regions.  Teams comprised of national, regional, and district participants conducted simulation drills in Kagera's Bukoba, Misenyi, and Ngara districts and Kigoma's Uvinza, Kasulul, Buhigwe, and Kigoma DC districts. Drills took place in hospitals, health centers, and dispensaries, chosen because they serve as either holding facilities, Ebola treatment centers, or laboratories; drills were also conducted at points of entry and border crossings. Drills honed technical skills in case management, laboratory use, surveillance, risk communication, coordination, and logistics management.

Related Media Coverage

See local media coverage of the Ebola Preparedness Activity in Swahili:

Blog: Tanzania Ministry of Health's Afya Blog

Blog: Rasmi Ya Ofisi Ya Waziri Mkuu

Photo: A WHO representative demonstrates a procedure as part of the Ebola virus disease outbreak preparedness and response exercises organized by HRH2030's One Health activity and partners. © World Health Organization/Hilary Njenge.