20 Sep

2nd Edition! Defining and Advancing Gender-Competent Family Planning Service Providers: A Competency Framework and Technical Brief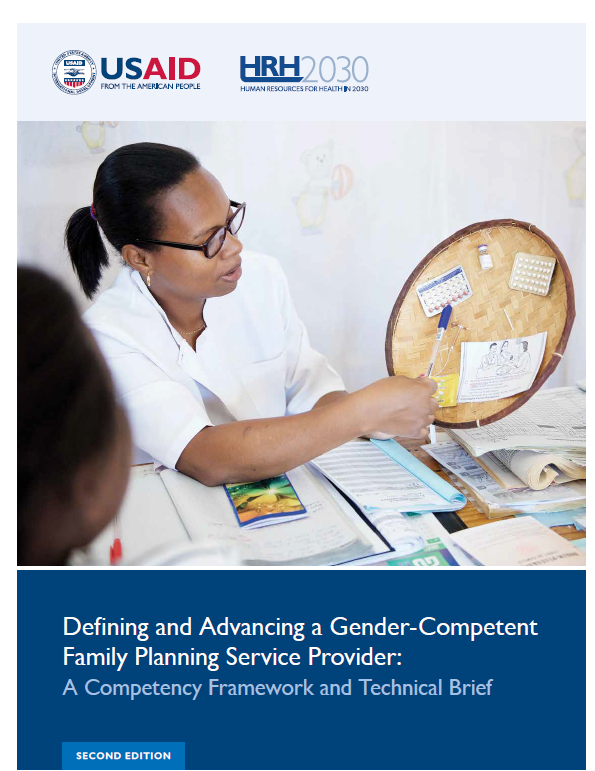 Around the world, gender norms influence the ability of individuals, couples, and families to meet their desired family planning (FP) needs. Provider bias and power imbalances in client-provider and client-client interactions impact the quality and accessibility of FP reproductive health (RH) service providers who have great potential to be change agents. As they overcome biases and offer quality, gender-sensitive, transformative services, they will help all clients make voluntary and informed decisions about their family planning needs, improving both gender equality and RH outcomes.
HRH2030 and USAID's Office of Population and Reproductive Health developed a global gender-competency framework for FP service providers to improve gender-awareness in health workers. The framework uses the following six domains to organize competencies, each of which are made up of specific knowledge, skills, and attitudes:
Using gender-sensitive communication
Promoting individual agency
Supporting legal rights and status related to FP in accordance with rights and local laws
Engaging men and boys as partners and users
Facilitating positive couples' communication and cooperative decision-making
Addressing gender-based violence
This resource can be used broadly with other cadres and in other health sectors as well. Health ministries and HRH professionals can use this competency framework to enhance or add gender dimensions to cadre- or program-specific competency frameworks. It can also be used by health program managers and human resources professionals involved in the development of job descriptions, supervision strategies, pre-service education curricula, in-service training plans and curricula, and licensing. At the facility level, managers and supervisors can use the framework for performance management of health workers, including community-based providers and private sector FP providers such as small drug shop owners and pharmacists.
Associated Content:
3 Questions with Samantha Law: Creating a Gender-Competent Family Planning Workforce
HRH2030 Vets Gender Competency Work with Experts
Empowering Health Workers to #BeBoldforChange
Country: Global
Resource Type: Tool
Topic: Family Planning, Skill mix and competency, gender
VIEW ON ISSUU
DOWNLOAD PDF