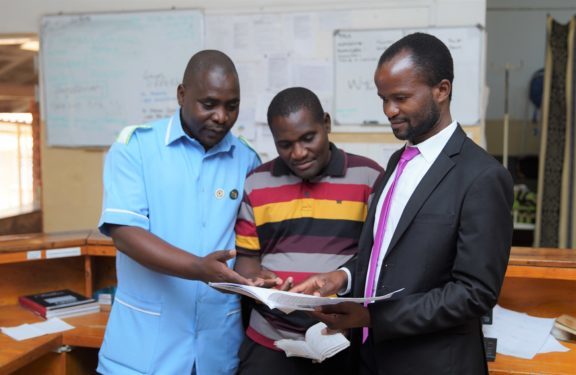 Lessons from Ethiopia, Indonesia, and the Philippines on implementing National Health Workforce Accounts
December 12, 2019 | 9:00 to 10:30 a.m. EST
REGISTER
Ensuring the availability of a well-prepared workforce that meets client needs is integral for reaching health for all. But how do countries keep track of the status of their workforce and how is data being used in planning and in delivery of services?
In 2016, the World Health Assembly called for countries to improve their use of health workforce data, by implementing National Health Workforce Accounts—a shared, global system of human resources for health data. NHWA, the WHO says, will "progressively improve the availability, quality, and use of health workforce data through a standardized set of indicators." NHWA data can be used to inform HRH strategies for strengthening service delivery in HIV/AIDS, family planning, maternal and child health, and infectious diseases—and for achieving UHC.
To date, 134 countries across the globe have reported on national health workforce accounts! In Ethiopia, Indonesia, and the Philippines, HRH2030 has been working with ministries of health and their partnering agencies to advance NHWA implementation.
Join us!
Please join HRH2030 for a webinar and discussion, Health Workers Count: Advancing the availability and use of health workforce data as we move toward health for all. The webinar will feature lessons learned emerging from Ethiopia, Indonesia, and the Philippines on NHWA implementation. In addition, updates from USAID on priorities in advancing use of health workforce data, and a global overview on NHWA implementation progress from WHO will be featured. Two Q&A periods are built into this 90-minute event.
Presenters
Diana Frymus, Branch Chief, Health Workforce, USAID Global Health Bureau, Office of HIV/AIDS: USAID Priorities in Advancing Use of Health Workforce Data
Khassoum Diallo, Coordinator, Data, Evidence and Knowledge Management, Department of Health Workforce, WHO: Updates on NHWA Implementation and Reflections on Global Progress
Assegid Samuel, Human Resource Development Directorate, Federal Ministry of Health, Ethiopia: An Enabling Environment for NHWA Implementation
Shinta Dewi, Human Resources for Health Empowerment and Development Agency, Ministry of Health, Indonesia: Using Innovative Practices in Interoperability and Business Intelligence to Operationalize NHWA
Kaycee Manuel, Department of Health, Philippines: NHWA in the Context of Universal Health Care
Leah McManus, Technical Advisor, HRH2030, Moderator