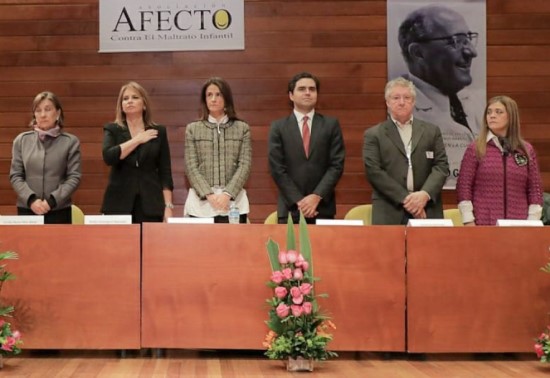 26 Aug

HRH2030 Colombia Takes A Stand Against Child Abuse

"Violence against children and adolescents is not a fortuitous act," said Director General Juliana Pungiluppi of the Colombian Institute of Family Welfare (ICBF) in her opening remarks at the 26th Colombian Congress on the Prevention and Care of Child Abuse, organized by the Afecto Foundation. HRH2030 Colombia Project Director Juan Barco participated in the July 15 to 17 event as a key ICBF partner, joining others to take a united stance against all forms of violence against children and adolescents.

"Science has shown us the impact of violence when it is used as a parenting practice, and civil society activism has put [this topic] on the public agenda. We heard you and are responding to your call."       

– Juliana Pungiluppi, Director, Colombian Institute of Family Welfare

Experts from the United States, Europe, and Latin America used the forum—the most important Congress in Colombia and Latin America related to the well-being of children—to share vital resources, tools, and information related to key themes like child and cognitive development, parenting, violence/abuse, discrimination, and equal opportunity. About 30 officials from ICBF headquarters and its Huila and La Guajira Regional Directorates, who have been active participants in HRH2030 training activities, participated in this three-day event. Among the other notable attendees were Afecto Executive Director Isabel Cuadros; Colombia's Vice Minister of Health and Social Protection Iván González; Delegated Attorney for Children and Adolescents, Attorney General's Office, Adriana Herrera; and Secretary of Social Integration, Mayor of Bogota's Office, Gladys Sanmiguel.

USAID's HRH2030 program in Colombia is working to strengthen the social service workforce that provides services to children, adolescents, and families, focusing on three key areas: coordination, training, and service delivery. HRH2030's activities in Colombia align with the government's priorities and approach for improving prevention of child abuse and care to children who are victims of violence. The program's national efforts are not going unnoticed. In her speech, Dr. Pungiluppi highlighted the support that HRH2030 has provided to ICBF, recognizing how they are strengthening child protection teams through the development of better tools and child services protocols.

Dr. Pungiluppi added, "Acts of violence cannot be a matter of opinion; and neither can be the methods we use to address them. Our joint action to restore the rights of the victims must start from [a base of] scientific validation."

The unified front shown at this most recent national congress signals that both the will and the knowledge needed to create a rights-based, protective environment for Colombia's children and adolescents is firmly in place.

Photo: Juliana Pungiluppi, General Director of ICBF (third from the left) stands beside HRH2030 Colombia Project Director Juan Barco (third from the right) during the 26th Colombian Congress on the Prevention and Care of Child Abuse.