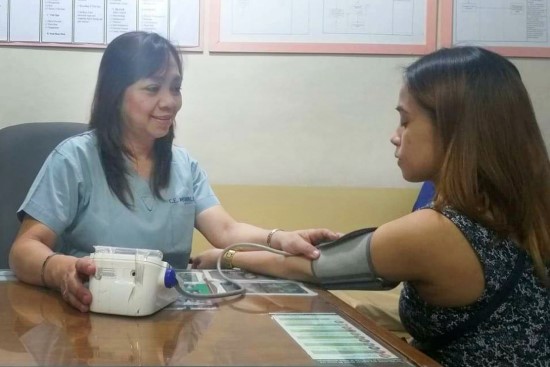 25 Jul

Introducing Online Training for Health Workers in the Philippines

Midwife Carina Manalo sits in a taxicab in Caloocan City, horns blazing around her. Carina checks her watch. Traffic is at a standstill, which is not unusual, but is a burden during a busy workday. The thought of saving time and attending trainings remotely through an e-learning platform has great appeal. Carina explains, "To attend face-to-face trainings, I have to leave my practice and spend a lot of time traveling. I believe that through the e-learning platform, I can continue to improve my skills as a midwife from the comfort of my home and for free, especially in handling family planning and tuberculosis (TB) cases."

For a nation like the Philippines, whose population tops the world internet usage index with an average of 10 hours a day, having online access to health learning is vital to maintaining optimal service delivery. For that reason, since 2018, the United States Agency for International Development (USAID), through the HRH2030 program, has been working with the Department of Health (DOH) to implement and scale up an e-learning initiative.

"Having a qualified and trained health workforce is a key factor for building an optimal health care system."
— Bryn Sakagawa, USAID/Philippines Office of Health Director

Sakagawa continues, "Through the DOH Academy, USAID helps the Philippine Government develop health workers' competencies by improving access to online training opportunities."

The DOH Academy's e-learning portal is the first of its kind in the Philippines to streamline and standardize core training content for health workers into online learning modules centralized in one location. Dr. Kenneth Ronquillo, Director of the Health Human Resource Development Bureau at the DOH, notes, "USAID introduces creative ways of learning and development by providing templates in e-learning as well as developing modules."

The e-learning platform transforms core training as learners can access it free online, at any time, from any connected location, and can download modules, reducing health worker absence from facilities to travel and attend in-person trainings. E-learning helps address the common complaint from local chief executives to the DOH for pulling out service providers from service delivery for trainings. "E-learning has the potential…to be more cost-effective and time efficient. This way more health workers can avail of the opportunity to acquire much needed knowledge and skills and at the same time reduce the time they spend away from their workstations," said Ms. Jasper Joy Dumaguing, Regional Training Specialist at the Central Visayas Center for Health Development.

By prioritizing health workers' professional development, the platform takes the Philippines a step closer to reaching its vision of universal health care and meeting its sustainable development goals. The system will save both time and money and can mobilize new and up-to-date learning resources to quickly train tens of thousands of health workers simultaneously to improve service delivery and health outcomes.

USAID is working with the Philippine Government to detect and successfully treat more than 2.5 million people with TB in the next five years, which requires continued investments in training and development. National Tuberculosis Program Manager Dr. Celine Garfin notes that the "delivery of quality TB care services can only be sustainably achieved when the capacity building packages are standardized and provided to the appropriate types of health care workers. An alternative teaching platform for capacity building on TB will reduce the number of days that health care providers are away from their service functions including through online courses."

Through support from USAID, the DOH e-learning platform went live for pilot testing at learn.doh.gov.ph on March 31, 2019 and should officially launch later in 2019. While the platform will eventually house many e-learning modules, USAID will kick-off the system with three fundamental courses for health workers in the Philippines to reach health workers like midwife Carina Manalo as soon as possible. These will focus on competency-based family planning, TB infection control, and universal health care.

Progress on reaching health workers to register and learn online is a joint effort with the DOH and USAID implementing partners. In the meantime, HRH2030 is reviewing policies that will help enforce mandatory online courses as well as incentives for health workers to participate in e-learning as continuing professional development units.

USAID partners with the Philippine Government to build self-reliance in planning, financing, and implementing solutions to solve its human resources for health challenges. To ensure sustainability and institutionalization of e-learning, the DOH has committed to allocating resources to manage the online system beginning in 2020 and use their own funding to develop 20 additional e-learning modules. Dr. Ronquillo emphasizes that as "USAID transfers this technology to the Department of Health, then we should be assured of a competent workforce to improve outcomes of health in the Philippines."

Photo: Midwife Carina Manalo (left) cares for a patient in a health facility in Caloocan City, Philippines.