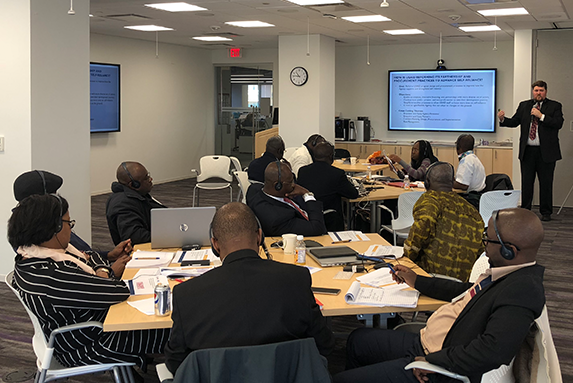 07 Feb

Strengthening Countries' Self-Reliance Towards Malaria Elimination
Kwabena Larbi is the Sierra Leone-based senior technical advisor for HRH2030's Capacity Building for Malaria activity. Kwabena has more than 20 years' experience in public health and malaria control. He has a master's degree in public health and a post-graduate diploma from the London School of Hygiene and Tropical Medicine.  
Countries that have eliminated or are about to eliminate malaria show that they have achieved this feat through local ownership and the continual allocation of significant local resources towards this goal. Following this example, other countries must redouble their efforts to make efficient use of available donor funds/resources, significantly increase local investment towards malaria control, and be better able to lead, manage, and coordinate their malaria control efforts.
As a USAID-funded long-term technical advisor to the National Malaria Control Program (NMCP) of Sierra Leone, I'm a member of the global community working to eliminate malaria. And thus, I was excited to see the theme of the Human Resources for Health 2030 (HRH2030) Capacity Building for Malaria (CBM) biannual meeting in D.C. in December. The theme, "Optimizing NMCP Global Fund Performance: Next Steps on the Journey to Self-Reliance", was apt and timely, highlighting multi-donor efforts to support building self-reliant NMCPs towards malaria elimination.
HRH2030, through the U.S. President's Malaria Initiative (PMI)-funded CBM activity, provides a framework that helps NMCP advisors in eight countries identify and overcome obstacles that prevent them from achieving their malaria control/elimination goals. The HRH2030-CBM semi-annual meeting provided a platform to discuss these challenges and map out responses that are replicable but also flexible to meet countries' needs no matter where they are in the various stages of the malaria elimination continuum (control, pre-elimination, elimination). Over the course of three days, malaria control managers, experts, and donors from 10 countries in Africa and Asia – including representatives from USAID/PMI, the USAID-funded Maternal and Child Survival Program (MCSP), and our HRH2030-CBM team – deliberated, shared lessons learned, and gained insight into the malaria control/elimination situation.
I was particularly keen on discussions that revolved around making efficient use of available resources. The roles of USAID-funded long-term technical advisors (LTTAs), who are embedded within NMCPs providing hands on, real time, on-demand support, were recognized by NMCPs and USAID/PMI as crucial. These resources, or LTTAs, including myself as embedded advisor to the Sierra Leone NMCP, are tasked with supporting NMCPs to strengthen their own ability to fund, manage, and lead themselves as they work toward malaria elimination. This is particularly true as donors and countries begin to look to increase national contribution towards malaria control efforts.
This was aptly captured by USAID representative Roman Napoli during his presentation at the semi-annual meeting. He shared USAID's vision for how NMCPs and embedded advisors can spur positive "disruption" and "innovation" within government. He emphasized that "The purpose of foreign assistance is to end the need for its existence."
This ethos should be the guiding principle for partners' investment to move countries towards where they want to be. The goal is to have good, open, strong bilateral discussions on where countries need to go next and work together on that journey.
My abiding takeaway from this meeting was a comment from Dr. Samuel Juana Smith, the Director of Disease Prevention and Control in Sierra Leone, who noted as we were transiting through the Paris airport, "When I get back to Sierra Leone, I will be guided by these insights on the importance of self-reliance in my work and encourage my minister, colleagues, and staff towards this journey."
Photo: USAID Representative, Roman Napoli, discussing USAID's perspective on the Journey to Self-Reliance.