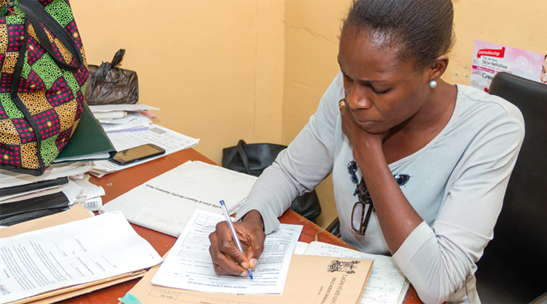 23 Feb

Three Questions with Joe Ichter: Task Analysis for Productivity and Performance
Joe Ichter is a health systems strengthening expert with over 20 years of experience. He currently works with the Palladium Group as senior technical advisor and leads several productivity and HRIS activities for HRH2030.

In many countries, health facility managers allocate service providers based upon the type of service site they manage or the size of the target population the facility serves. This approach often overlooks the actual health needs of the people in a facility's service area. For example, an HIV clinic focused on getting patients onto antiretroviral therapy might miss an opportunity to counsel patients in need of family planning by not having providers who are trained to offer this service.
To best serve the health needs of communities, health facility managers should align the competencies of health providers with the health needs and demands of the people they serve. Through task analysis*, health system decision-makers can identify the core set of tasks that health workers must perform on a routine basis in order to meet their communities' particular needs or address specific risks. HRH2030 is using a modified, "rapid" version of the task analysis approach in Cameroon, Haiti, and Madagascar.
HRH2030 is just gearing up to use task analysis in Haiti and Madagascar, but the approach has already been used by HRH2030 in Cameroon. Briefly, how was it used there? Were there takeaways from that experience that you will bring to the work in Haiti and Madagascar?
In Cameroon, an HRH2030 team led by our partner Amref Health Africa pulled together a team of local leaders to collectively identify an HRH issue impacting quality of care. The group chose family planning counseling as a weak spot for providers. At that point, HRH2030 selected six key family planning counseling tasks and interviewed providers from four clinics to explore their competencies in completing those tasks. We found that more than half of the providers interviewed had not received any form of training — including informal on-the-job training — on any of the tasks and do not perform them frequently. These findings influenced the design of provider training with the ultimate goal of increasing demand for family planning services.
The experience in Cameroon will inform the work that we are preparing to do in Haiti and Madagascar. Primarily, we realized that we need to revisit the structure of the task analysis questionnaire. Increasing the number of response options for self-perceived competence and adding a layer to some of the questions will give us more thoughtful, nuanced replies. We also identified a need to frame the questions more neutrally so that we weren't encouraging providers to respond based upon what they perceived to be the "right" answer or fear of reprisal.
The World Health Organization's Workload Indicators of Staffing Need (WISN) is designed to determine how many health workers of a particular type are needed to handle the workload of a given health facility. How does the task analysis approach differ?
The WISN is oriented towards measuring effort and staffing needs based on the time and intensity of particular health care provider job functions. It provides critical information for administrators and planners to properly staff health facilities based on the demand of the population. On the other hand, the adapted version of task analysis used by HRH2030 concentrates on assessing the competencies of providers to deliver the care their communities and patients need. Assessment of competency flows directly into the quality of care provided, assuring provider's skills match the clinical needs of the population served. As management tools, the WISN and task analysis are complementary.
Is this a methodology that you envision ministry of health officials being able to carry forward on their own? What is HRH2030 doing to support that?
We see the adapted version of task analysis used by HRH2030 as a relatively simple methodology to inform in-service training activities, whether via MOH officials or by those in supervisory roles. Although the task analysis can be used as an overarching assessment of health providers' skills as they relate to community needs, it can also be used in smaller "chunks". For example, task analysis could be used to measure competencies related specifically to a service in the HIV continuum of care or a specific component of family planning that could be a priority for a district or region. Because task analysis has an easy-to-scale approach, it can be accomplished more regularly and without a great investment of time, using only a few questions to assess competency. The results can then inform targeted training activities.
HRH2030 intends to pilot this rapid methodology at a sample of service delivery points in select districts in both Haiti and Madagascar. We will debrief the district health management teams (DHMTs) on the results and demonstrate how they can be used to identify areas for improvement. We'll then assist the district managers to review training, supervision, and performance support plans. Designated DHMT members will shadow the process throughout, learning how to use the tools, enter data, analyze the results, and make decisions according to the findings. Ultimately, if brought to scale, this replicable approach can help DHMTs better assess worker competencies to deliver the services their patients need, design training and supervision activities according to those needs, and move countries toward achievement of global health goals.
*HRH2030 has adapted the task analysis approach developed by Jhpiego.