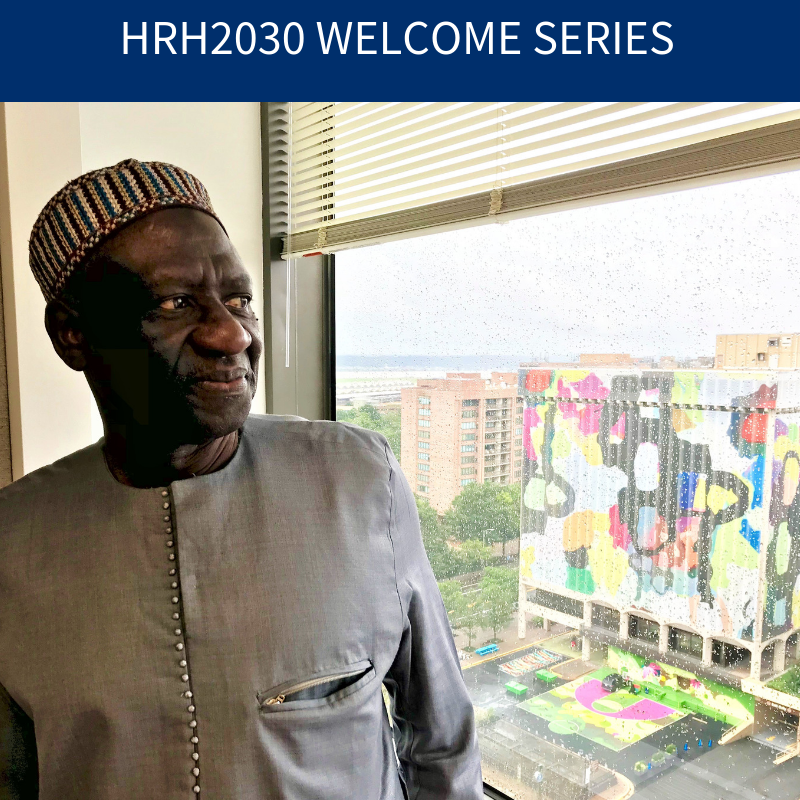 15 Oct

Three Questions with Dr. Matar Camara: A public health specialist with a vision

Dr. Matar Camara joins HRH2030 as the new project director for our Senegal activity. For fifteen years, Matar served as the principal technical specialist for USAID/Senegal in health system strengthening including health policy development, health system decentralization, and health care financing components. Prior to that, he served as epidemiologist for WHO/Africa in Burundi and Rwanda, as a public health advisor for the World Bank in Senegal, and as chief epidemiologist of the Regional Endemic Disease Service in the Thies and Diourbel regions of Senegal.
We would love to learn more about you! What inspired you to work in health?
When I graduated secondary school, I was interested in caring for animals, but we had to make three choices for orientation. The first was to be an animal care technician, the second was medicine, and the third was pharmacy. I had been oriented by a commission to do medicine and I when I got my doctorate in medicine, I was sent to a rural area to care for patients with leprosy. It was very difficult because of behavior of the patients, the shortage of drugs, and there were many hard-to-reach sick people and we didn't have vehicles to reach them. This inspired me to become a public health specialist. I tried to get a scholarship to do public health but did not succeed. I went to a World Bank Institute as a health manager and then had the chance for a scholarship to take part in a health management program. I got a Master of Business Administration and then, by experience, became a public health specialist.
In your opinion, what are some of the most significant challenges health workers face in Senegal?
Currently, the strike of health workers – it's really challenging. We have three large health unions and they are always on strike and right now they are on data strike and withholding information. This is a challenge to program activities because we need data to show results and now, at this time, we don't know if or when the strike will be over.
The current strike has been ongoing since March. Nurses and midwives want the same allowance increase from the government as doctors have received, but the government is not responding to their demands. This strike aims to gain support from health partners and donors who value the data. The striking nurses and midwives normally work at health posts at the grassroots level but are currently not collecting data on their patients.
A second challenge is bringing program managers to implement in a timely manner what they have scheduled.
A final challenge is focusing on results. Program managers may want to implement activities but are not tying activities to achieving results. The link isn't there.
Working with HRH2030, what do you hope to improve in Senegal's health system?
Human resources (HR) is one of the main pillars of the health system. Unfortunately, Senegalese health authorities may not always be aware of the importance of HR to the health system. There is no validated human resources development plan. This is an issue. Also, the training of nurses, midwives, doctors are not done based on needs. We have private and public-school training to train, but not to meet the real needs. [As a result], we have nurses, midwives and even doctors that have not been hired.
This program will help to develop standard rules for the management of human resources; to develop leadership of the health workers; to forecast needs in each category; and to help the Minister of Health to create a motivating environment to implement health programs.
This is the aim of HRH2030 for Senegal.
HRH2030 has been working since 2016 with USAID/Senegal and the Government of Senegal to develop and implement human resources policies and practices that promote an available, acceptable health workforce. Learn more about HRH2030 in Senegal.
Photo: Dr. Matar Camara looks out over Crystal City, Virginia as he envisions the way forward for human resources for health in Senegal.