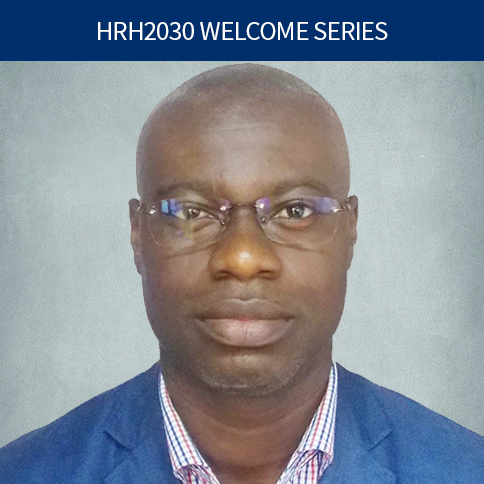 24 Jun

Three Questions with Dr. Raymond Taha: Enhancing Côte d'Ivoire's One Health Platform

Dr. Raymond Taha is HRH2030's multisectoral advisor for health security on the One Health activity in Côte d'Ivoire. Previously, Dr. Taha worked for DAI Inc. as a national One Health technical advisor on the USAID-funded Preparedness and Response (P&R) project, where he contributed to the adoption of the One Health approach and establishment of the National One Health Platform. He has a doctorate in veterinary sciences from the University of Blida in Algeria and a master of science in tropical animal health from the Institute of Tropical Medicine in Antwerp, Belgium.
We would love to learn more about you! What inspired you to work in health?
As a veterinarian, I started my career advocating for animal health and welfare and combating animal diseases. I worked at both the regional and national levels, monitoring the living conditions of domestic animals, and supervising the import and export of livestock. I participated in the management of several health crises related to zoonotic diseases in the country, including rabies and the Highly Pathogenic Avian Influenza (HPAI) epidemic in 2006, where I had an important part in coordinating response efforts with other institutions. I attended the Global Conference on Highly Pathogenic Avian Influenza in New Delhi, India, in 2008, where I learned about the concept of One Health for the first time and realized how my experience combining different disciplines – such as human and animal health, epidemiology, biology, and animal pathology – could be valuable when preparing and responding to epidemic outbreaks.
In your opinion, what are some of the most significant challenges health workers face in

Côte d'Ivoire

?
One of the biggest challenges, in my opinion, is that despite the rapid economic growth experienced in recent years, the country's health system still lacks the infrastructure and resources it needs to face potential health threats. This has several consequences for health workers in the country, including an increased competition among institutions that constantly worry about resource ownership and allocation, a lack of cooperation between these institutions, and a demotivated health workforce. As a result, there is an ever-growing need for the government to restructure the existing system and to promote collaboration among all institutions for the wellbeing of the country's population.
Working with HRH2030 through One Health, what do you hope to improve in

Côte d'Ivoire

's health system?
With the support of HRH2030, I hope that the levels of collaboration and coordination among the different stakeholders of the National One Health Platform (NOHP) will increase. Stronger, more transparent coordination within the NOHP will ensure that the country's emergency response mechanisms are prepared to face any potential health threat. Additionally, better collaboration will increase the overall quality of our health system in the long term. On a more personal note, I hope that working with people from diverse backgrounds and in different sectors will help me expand my knowledge and develop new skills.
Photo: Dr. Raymond Taha has joined HRH2030 as a multisectoral health security advisor for the One Health activity.