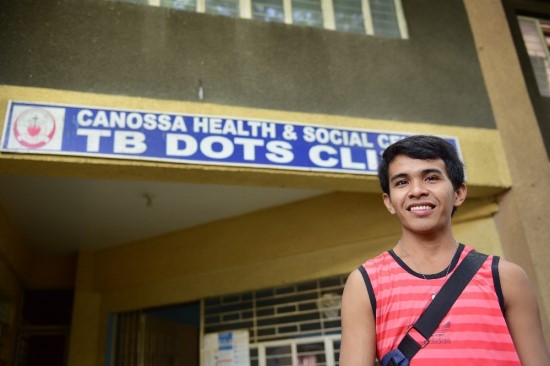 23 Mar

The Power of Perseverance: A TB Patient's Journey to Health

View the photo-essay version of this story on our HRH2030 Exposure site here.

FROM PATIENT TO VOLUNTEER

It is a typical warm Tuesday morning in the densely populated Tondo, Manila, as Bernard makes his way to the Canossa Health and Social Center, a faith-based facility renowned for its distinctive, holistic approach to care.

Bernard arrives at the facility just a few minutes after 8:00 a.m. as he has every day for the past six months, as part of a commitment he made on the morning of November 24, 2018 with the Sisters of Canossa when he tested positive for tuberculosis (TB). He is greeted at the gate by a familiar and smiling face. As he enters the facility, he sees more familiar faces. This day is no different for almost everyone at the facility, but it is a special day for Bernard.

Today is Bernard's last day as a patient and his first day as a volunteer. As he completes his treatment, he begins as a volunteer to guide new patients who will become recipients of the facility's health services. Bernard is not alone in his experience as a TB patient. His experience represents the stories of many TB patients who receive the care and support of the health workers of Canossa. In fact, on this last day of his treatment, three new patients arrive at the facility to start the internationally recognized and recommended strategy for TB control, the "Directly Observed Treatment Short-Course" or TB-DOTS. Bernard remembers how his journey began.

AT THE ONSET OF ILLNESS

Bernard was working as a delivery boy, while living with his parents, sibling, and his three nieces. He did not think much about it when he began coughing.

"I continued working, but as time passed, the cough showed no indication of letting up. I also started to feel pain on my back whenever I coughed. This lasted for about two weeks. My body was getting weaker and I lost a lot of weight; you could see the bones in my cheeks," said Bernard.

When he could no longer ignore the pain, he felt he had no other choice but to visit the nearest health center, the Canossa Health and Social Center.

Canossa is one of many health facilities in the Philippines engaged in the fight for a TB-free nation. In its 2019 global tuberculosis report, the World Health Organization categorized the Philippines as one of 30 high TB-burden countries. TB is the nation's leading cause of death that is communicable. USAID's Human Resources for Health 2030 (HRH2030) program, implemented by a consortium and working in partnership with the Philippines Department of Health, works to strengthen the health workforce to improve access to and quality of TB services so that patients like Bernard can get the care they need when they need it.

FIRST VISIT TO THE CLINIC

Bernard arrived for his first visit on a Saturday morning. That day, the facility was offering pharmacy, dental, laboratory, X-rays, and TB-DOTS services. Together with other patients, he gathered in the open space and awaited instruction from the facility staff members.

Bernard joined a group with others who had been suffering from cough for anywhere from three days to more than two weeks. He was instructed to get an X-ray and sputum test from the laboratory. He did so on that morning of November 24, 2018. On the same day, Canossa Health and Social Center admitted him as a TB patient to start his six months of uninterrupted TB-DOTS.

AGREEING TO BECOME TB-FREE

Just like every Canossa TB patient for the past four decades, Bernard's treatment began with a thorough orientation on tuberculosis and the facility's TB-DOTS program. Bernard signed an agreement to remain faithful to the treatment procedure.

A health worker explained, "The contract stated that Bernard understood and subscribed to the objective of the program to improve not only the health of his body but also the entirety of his personhood. As part of his patient contract, Bernard agreed to participate in health lectures, physical exercise activities, and basic ecclesial catechism at the facility."

On that November day, Bernard's health worker assured him that his ailment was curable given proper medication, and adherence to the treatment regimen. The health worker emphasized that patients should not be ashamed of having the disease. She also informed Bernard that once on medication, it would only be a few weeks until he would no longer be contagious. And that after completing his full, six-month regimen—without missing any doses—he would be tuberculosis-free.

A HOME AWAY FROM HOME

After just a few days of treatment, Bernard had integrated into the community of TB-patients. Each day, he and the other patients would arrive at the facility between 8:00 a.m. and 8:30 a.m. while the employees and volunteers were doing their morning prayer. After the daily group prayer session and other morning activities, Bernard would join the group of TB-DOTS program patients in front of the TB-DOTS Clinic.

Bernard would queue alongside 76 other TB patients in front of the health worker assigned to him for the distribution and administration of his TB medication. Each health worker typically handles around 10 to 15 patients at any time. After taking his medication in front of the attending health worker, Bernard would walk to the feeding area to get the provided breakfast meal. Health workers ensure that TB patients receive the proper nutrition needed for their fast recovery.

This was Bernard's daily routine for the past six months. Now, on his last day, he waits for his certification from the TB-DOTS physician and the Sisters that he is completely free of the disease. He is ready to join the larger community for his first day back as a healthy, TB-free member.

QUALITY CARE LEADS TO BETTER HEALTH OUTCOMES

Every TB patient's journey may not be as smooth as Bernard's experience. But thanks to patients like Bernard, who are persistent and remain dedicated to their treatment plan, the health workers of Canossa can allot more time to monitoring patients who may have more difficulty with adherence and miss medication. Had Bernard missed his medication for consecutive days, his assigned health worker would have paid a visit to his home to check on him, see how he was feeling, and to find out why he was absent. For other patients in Bernard's group, the assigned health worker did need to conduct regular home visitation and counseling sessions. It was through this genuine care from Canossa health workers that Bernard and other TB patients not only completed their six months of medication but also left the facility with a positive experience. These positive experiences continue to spread to the barangays (villages) of Tondo and bring more patients to Canossa.

ABOUT THIS STORY

As in many other countries, the Philippines faces imbalances in the development and distribution of health workers, which poses challenges to the health system. The nation's 2019 passing of the Universal Health Care Act renewed the opportunity to highlight the importance of investing in human resources for health for better health outcomes.

USAID is currently working with the Philippine government to detect and successfully treat 2.5 million people with TB over the next five years. USAID through the HRH2030 program and in partnership with the Philippines Department of Health, provides capacity building interventions to strengthen the planning, deployment, distribution, management, development, training, retention, and data informed decision-making of a fit-for-purpose-and-practice health workforce. Bernard's journey as a TB patient showcases a positive health care experience due to access to quality TB services. By strengthening the nation's health workforce to improve access to and quality of TB services, USAID's HRH2030 program is working to ensure stories of survival, like Bernard's, will be shared many times over.

Photo: Bernard stands in front of the Canossa Health and Social Center in Manila, where he was treated for TB. Credit: Alan Blue Motus, HRH2030.