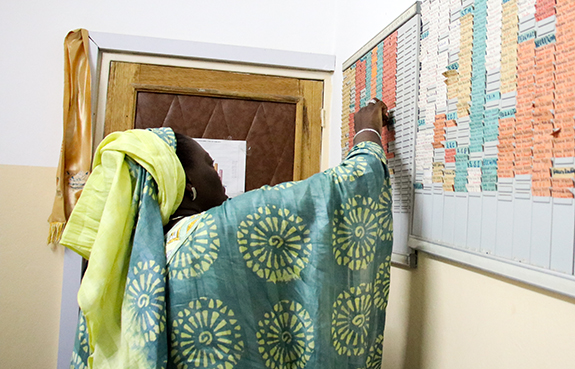 21 Aug

Defining the Call of Duty for Health Workers: In Senegal, job descriptions go beyond a piece of paper

Nene Sory Binda Ba is a nurse in Dakar, Senegal. When she arrives at Grand Yoff General Hospital, she understands where to go, who to report to, and the services to provide to patients in need. Working alongside Nene are passionate colleagues who also understand their call of duty.

Job descriptions make that possible.

From the midwife delivering children in a rural clinic to the laboratory technician assessing blood samples at a hospital, all health workers need a clear definition of responsibilities just as much as they need a sense of purpose. In countries like Senegal that face critical health workforce shortages, it's especially important for staff to understand the tasks in their purview.

Senegal's Ministry of Health and Social Action (MSAS) is working with USAID's HRH2030 program to ensure that health workers, within the ministry and beyond, understand their roles through job descriptions.

In offices and hospitals where responsibilities blur and resources are limited, creating job descriptions from scratch is a challenge. It requires defining hierarchies, pinpointing required skills, determining classifications of staff, and more. Depending upon the facility or location, many MSAS staff do not have clear job descriptions, and many hiring managers do not use job descriptions when hiring staff. But, with HRH2030 support, that is changing.

Using a template created by the Office of Organization and Methods under the Presidency of the Republic, MSAS is embracing job descriptions across its health institutions. Along the way, these job descriptions are proving to be more than a piece of paper.

To build the capacity of MSAS staff in developing job descriptions, HRH2030 began by training 122 human resources managers and human resources focal points at the central, regional, and hospital levels. They are a management tool, helping leaders set expectations and helping staff hold their superiors accountable. And, most importantly, they encourage equitable service delivery, deepening patients' understanding of the care they will receive.

Dr. Mor Diaw is the Director of Health and Institutions in MSAS. He has seen the benefits of the job descriptions firsthand.
"The job descriptions allow for [a staff member] to understand their career path … The goal in all the hospitals is that every [staff member] has their job description read, validated, and accepted and that they can be a source of motivation."

— Dr. Mor Diaw, Director of Health and Institutions, Senegal Ministry of Health and Social Action
"But, through this process, we found the new problem: that we must find the right people for the right job," he adds.
The process of reviewing job descriptions not only helps institutions understand why positions exist in the first place, but also helps decision-makers recognize who is the best fit for the job.
Arémata Danfakha is the head of the Human Resources Department at University Hospital of Fann. She sees how job descriptions can guide today's healthcare work and define tomorrow's healthcare needs.
In her office, there is a colorful directory of the hospital staff that she oversees. As job descriptions are reviewed across the hospital's many departments, she sees written expectations drawing closer to the reality of service delivery.
"Job descriptions depend on the context and the specialization," she says. "The ministry gave us a standard job description [template], and it was for us to fill it out. There is more than one model."
As job descriptions are finalized across health institutions in Senegal, the health workforce will be able to walk into work and know exactly where, how, and why their role makes a difference. With a finger pointing to the job descriptions displayed in her ward, Nene Sory Binda Ba can declare exactly what her tasks are.
Senegal's Ministry of Health and Social Action and HRH2030 are working to ensure every health worker — from ministry offices to the front lines — can do the same.
Photo: Arémata Danfakha, head of the Human Resources Department at the University Hospital of Fann in Dakar, consults a directory of the staff she oversees. Danfakha thinks standardized job descriptions can align expectations with the reality of service delivery. © 2018 Michelle Byamugisha for HRH2030/Chemonics