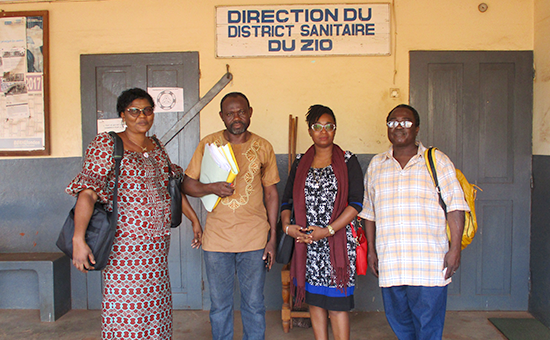 05 Nov

Doubling Down on Data: Supporting the National Malaria Control Program in Togo

To support the government of Togo's efforts to eliminate malaria, HRH2030, through the Capacity Building for Malaria activity, works with Togo's National Malaria Control Program (NMCP) to strengthen its capacity to effectively use its resources to fight malaria. Togo is one of five countries in the West Africa region on track to reduce incidence by greater than 40% by 2020.

To continue this momentum, Dr. Josée Gnamien, chief of the NMCP's Procurement and Supply Chain Unit, and a pharmacist by training, was asked to lead a bi-annual traceability mission with the support of the NMCP's Monitoring and Evaluation Unit and HRH2030's Capacity Building for Malaria Long Term Technical Advisor Jean- Emmanuel Julo-Reminiac. The goal was to introduce new malaria commodity tracking tools and train staff on how to use them, to strengthen the supply chain between the NMCP and district and regional level malaria control commodity managers, and enable better tracing of the antimalarial commodities moving between the national purchasing center and district and regional health facilities.

Dr. Gnamien chose 16 health districts across six regions to participate in the exercise; districts were identified based on the number of stockouts, particularly in long-lasting insecticide-treated nets (LLINs), recorded in the District Health Information System (DHIS2) during the second and third quarters of 2019. She then led the NMCP's formulation of the traceability tools and trainings to enhance antimalarial commodity data collection. From there, NMCP field teams shared several base tools with commodity managers in the targeted districts, including stock sheets, standardized monthly activity reports, and delivery slips. These base tools were used to gather the raw data which was then transferred to the traceability tool developed by Dr. Gnamien's team, with the data submitted to the NMCP, thus filling a key data gap between district and regional health services and the NMCP.

The traceability mission ultimately helped to bridge quite a few information gaps between the districts and the national level. The NMCP had originally noted a number of insufficiencies, including poorly archived documents; discordance between district/health center-level antimalarial commodity consumption data and data used to predict antimalarial commodity demand at the central warehouse level; unstandardized and improperly filled data collection tools; and poor staff familiarity with the importance of these tools. The new tools and the associated trainings have given antimalarial commodity focal points enhanced data management knowledge and skills, so they may provide a better picture of their needs to the NMCP at the central level.

This traceability mission is one of 18 malaria control activities spanning September 2019 to August 2020, all of which were financed by a $150,000 direct-to-government fixed amount award (FAA) co-developed between the NMCP and HRH2030. The NMCP's self-managing of the grant from conception to implementation aligns with the HRH2030 Capacity Building for Malaria activity's second objective, to "strengthen the NMCP's leadership, health workforce, and procurement and supply management to support successful implementation of the Global Fund's new funding model." It also demonstrates their ability to manage finances and implement activities as they work to eventually become a Prime Recipient for the country's only major malaria donor, the Global Fund to fight AIDS, Tuberculosis and Malaria.

Looking forward, HRH2030's Dr. Julo-Reminiac will continue supporting and coaching NMCP's management team to further develop, implement, and take ownership of grant-related activities and finances and bring in new partners on their journey to self-reliance.

Photo: Shown during the NMCP Togo traceability mission, from left to right, are: NMCP IPT Assistant Ahoefan Perpétue Djossou; Zio health district malaria focal point Razakou Idrissou; NMCP Procurement and Supply Chain Unit Chief Dr. Josée Gnamien; and NMCP Case Management Unit Chief Dr. Afolabi Eliassou.