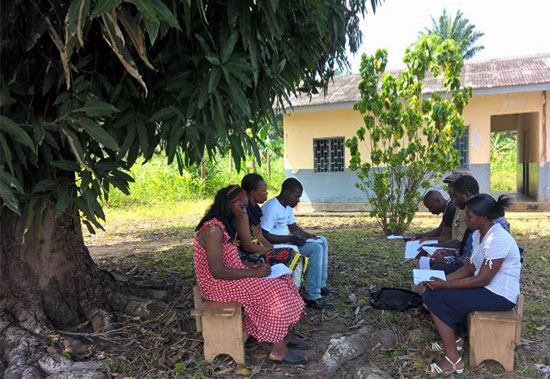 09 Apr

HRH2030, Partners Mobilize Local Leaders to Alleviate Family Planning Challenges in Cameroon

In a hospital in the Bafia District of Cameroon, everyone is buzzing. A thirty-eight-year-old woman has died while miscarrying her eighth child. The midwife is visibly upset with the husband to the astonishment of onlookers. But why?

Only a few months ago the midwife had delivered the woman's seventh child and saw her narrowly escape death from eclampsia. She had warned the couple about the dangers of having another baby and encouraged them to adopt a contraceptive method, but the husband had just nodded impatiently.

Unfortunately, stories of this type are quite common in Bafia and elsewhere in Cameroon. The maternal mortality ratio is high at 596 per 100,000 live births in 2015. If couples adopted a modern contraceptive method and practiced birth spacing, many of these could be avoided. Despite the Ministry of Public Health's efforts to increase family planning services delivery points throughout the country, family planning services remain underused. This happens for a variety of reasons, including misinformation about the effects of contraception and lack of information about these services from health care providers.
" We have cultural barriers, which we need to have broken. For example, [people in the community] think that family planning has a lot of adverse effects. For example, it makes somebody sterile, which is not true."

— Glory Yonghabi, Senior Nurse, Bafia District Hospital
To overcome challenges related to access to and quality of family planning services at the local level in Cameroon, HRH2030 has tapped into an often-overlooked human resource — local leaders. These leaders have influence in the municipalities where they live. They are widely respected by the community, and that respect can be leveraged in support of family planning.
Through its local leadership and management (LLM) approach, HRH2030 is building local leaders' capacity to bridge communication gaps between family planning providers and the community and encourage development of local solutions to family planning challenges.
The LLM approach includes the five following steps:
Identify at the national or sub-national level a key challenge that hinders access, usage or quality of family planning services
Verify that this challenge is also relevant at the district level
Gather a team of local leaders at the district level to analyze the local characteristics of the challenge and its causes, build a common vision of family planning access and quality, and determine how each participant can contribute to overcoming the challenge
Develop an action plan and manage/monitor its implementation
Evaluate the plan's impact on alleviating the identified challenge and the mechanisms employed
To kick off its work in Bafia, HRH2030 organized a training for 68 local leaders in October 2017 on the LLM approach. This all-day training brought together local chiefs and dignitaries, heads of local women's organizations representing various sectors (e.g., transportation, agriculture, finance), managers of family planning centers, and community health workers.
The group came to consensus that women and girls can make informed decisions about their reproductive health. The group members then decided upon lack of birth spacing as the family planning challenge to tackle and identified a lack of couples' dialog about family planning as a primary cause. They also made a connection between lack of birth spacing and several consequences, including threats to maternal health and poverty. By the end of the training, the leaders had developed a corrective, feasible, and low-cost action plan. The plan includes actions such as organization of youth discussion forums on responsible sexuality and increased participation of local leaders during sensitization events.
The local leaders have divided into working groups to implement their plan over the course of the next year. In February 2018, the HRH2030 team conducted a follow-up visit, which revealed high engagement level of local leaders toward advancing family planning services in the district.
"Well, in terms of working with community leaders, there has been a big change," explained Cécile Love Ngake, who oversees the district's reproductive health unit, "The community had a poor understanding of family planning … Then the leaders made them understand that family planning permits birth spacing and does not stop childbirth all together. Certain groups have already begun to perceive it positively."
The HRH2030 team and partnering health district authorities will continue to monitor this work throughout 2018.
Photo: Local leaders discuss a recently drafted action plan for combating family planning challenges in Cameroon's Bafia district and assign responsibilities for its implementation. Photo credit: Gilles Mathurien Bokpe, 2017