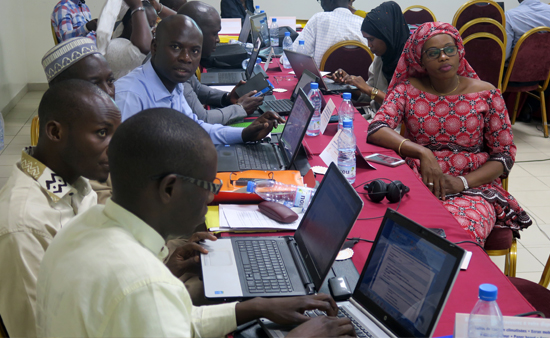 11 Sep

HRH2030 Supports Health Worker Data Training in Senegal

In July, HRH2030 and Senegal's Ministry of Health and Social Action's Directorate of Human Resources (DRH) hosted a workshop to develop DRH staff members' ability to effectively use the country's human resources information system (HRIS). The workshop builds on collaborative efforts to create a full picture of the current and future health workforce in Senegal by improving collection, analysis, and use of health workforce data.

In 2014 the Ministry of Health and Social Action (MSAS) adopted the open source software iHRIS as its tool for collecting and managing human resources (HR) data. Since the software's introduction, the ministry and its partners have noted several challenges with its implementation:
Variability of use across regions due to skill gaps among HR staff
Weak infrastructure, including electricity and internet connectivity
Programming of the current system captures HR data only for the public sector and neglects community-based and private sector workers
A heavy focus on data entry has diverted attention from data analysis for decision-making
The three-day July workshop focused on reducing skills gaps between regional- and central-level staff on the use of the iHRIS software. During the workshop, attendees watched iHRIS demonstrations and practiced data entry, enrolling new health workers, and modifying previously enrolled workers' information. The 20 attendees came from MSAS directorates, services, programs, and central divisions. Technical staff from the DRH, the national iHRIS focal point, and HRH2030 iHRIS Technical Advisor Moussa Diakhate led the session.
DRH staff members who participated in the workshop underscored the need to conduct similar trainings for all departments within the MSAS to ensure harmonization of human resources management. They also highlighted the benefit that the rollout of iHRIS implementation will have on the management of human resources at the central, regional, and district levels. Participants unanimously agreed that country-wide iHRIS training would help guarantee that the right health workers with the appropriate skills were positioned in suitable posts, including those in traditionally underserved areas.
"If the implementation of iHRIS tool succeeds this will be extremely beneficial for all human resources for health in Senegal," remarked DRH staff member Ndeye Coumba Thiam, who participated in the workshop. "[HRH2030] has been able to pick up the unfinished work, provide direction and guidance, and move iHRIS implementation forward."
HRH2030 will continue to support iHRIS training and rollout for data entry and use throughout the country with a continuous focus on the use of data to inform higher-level decisions. The program will also support DRH efforts to address select infrastructure challenges to ensure that rollout of iHRIS is not further delayed.