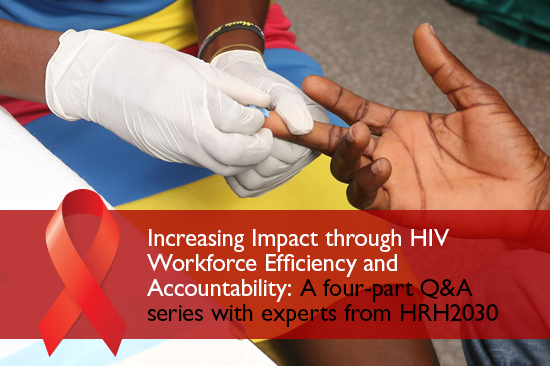 05 Dec

AIDS Day Q&A Part 1: Increasing HIV Impact through Human Resources for Health Interventions
Diana Frymus is the health workforce branch chief at USAID, Office of HIV/AIDS in Washington D.C. Her work focuses on advancing USAID and PEPFAR strategic approaches and technical programming for health workforce for achieving 90-90-90 goals and sustaining program efforts.
How can human resources for health (HRH) interventions for HIV support an increase in transparency, accountability, and partnership?
Across PEPFAR countries, countries continue to face health worker constraints that impede HIV service delivery. Partnering with countries and supporting interventions that advance capacity to manage the health and social workforce not only helps strengthen countries' health status but also promotes inclusive growth and self-resiliency. This yields greater transparency and accountability of the workforce required for achieving and maintaining further progress in HIV.
What are some of the most critical HRH challenges impacting HIV service delivery?
Many countries face fiscal constraints that prohibit significant increases in HRH financing to produce and hire additional health workers. This has placed greater emphasis on optimizing the utilization of existing available workers working across facilities and communities from both public and private sectors. This is key as countries continue to roll out differentiated service delivery models for HIV, which places greater emphasis on the role of the community-based workforce. In order to advance sustainable financing for HRH, countries need to place greater priority on improving the efficient use of existing resources for the health workforce and maximize the value of existing health workforce investments.
What are some new opportunities and strategies to overcome HRH challenges to advance achievement of 90-90-90?
HRH2030 has been working on some new and exciting activities to advance HRH for achievement of 90-90-90. These include advancing the use of HRH data and analysis through innovative assessment methodologies such as health labor market analyses, HRH investment cases, and models to help determine appropriate staffing for HIV service delivery models and efficiencies of HRH utilization — all of which you will learn more about in this series! Greater use of HRH data to inform and monitor impact of HRH investments is needed to yield greater achievement of 90-90-90.
Others in this Series
Part 1: Increasing HIV Impact through Human Resources for Health Interventions
Part 2: Optimizing the Role of Community-Based Workers in HIV Service Delivery
Part 3: Standardized Use of Site-Level HRH Data for Differentiated Models of ART Delivery
Part 4: Making the Case for Investing in HRH