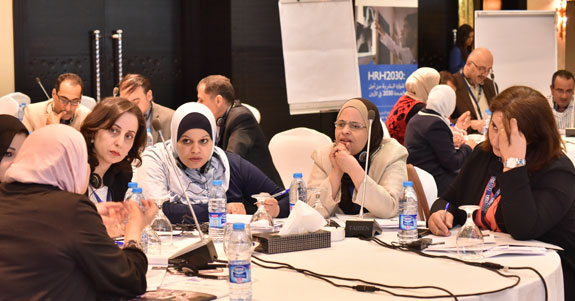 20 Apr

HRH2030 Researches, Prepares Women for Leadership Opportunities in Jordan's Health Sector

While women account for more than 50 percent of the health workforce in Jordan, they are underrepresented in top management roles. Initial results from recent HRH2030 research in the country reveal that 57 percent of 2,082 female health workers surveyed report having fewer opportunities than men for professional development, while about half of 1,100 male health workers surveyed report that women lack the managerial skills needed for career progression.

How can we best address this disparity? Improved managerial education and training offers a solution.

In partnership with the Ministry of Health, HRH2030 is training women through a two-year tailored course to develop the health management and leadership skills needed to expand their professional opportunities and to ensure the highest quality health care to the people of Jordan. More than 40 percent of the 62 training participants are women representing each of the country's governorates. After completion of the training course, participants will receive a Ministry of Health-recognized certificate, and the training will count toward their continuing professional development requirements.
"I'm impressed with the health management and leadership training because, unlike most courses, it empowers women and gives them an equal opportunity alongside men to undertake leadership positions."

— Linda Haddad, Nursing Director, Ajloun Health Directorate
"The training also contributes and pushes for changing the misconception around women assuming higher management roles through equipping women with knowledge and skills on management and leadership, strategic planning, change management, and more," Haddad added.
Empowering women to advance in healthcare leadership promotes a better response to the health needs of the entire population. This work aligns with Jordan's Vision 2025 goal of universal health coverage and the National Health Sector Reform and National Human Resources Development Strategies, while simultaneously expanding economic and professional opportunities for women.
HRH2030 will share the results of its research into women's leadership in Jordan's health sector nationally and internationally in June 2018. The Jordan team will continue to work with national stakeholders to develop practical recommendations to gender equity challenges, such as establishing a women's health leadership network, introducing policy changes, and further targeting women for management and leadership training.
Photo: Participants of HRH2030's two-year health management and leadership course for Jordan Ministry of Health staff engage in a training on vision and mission development in October 2017. Forty percent of the 62 training participants are women.