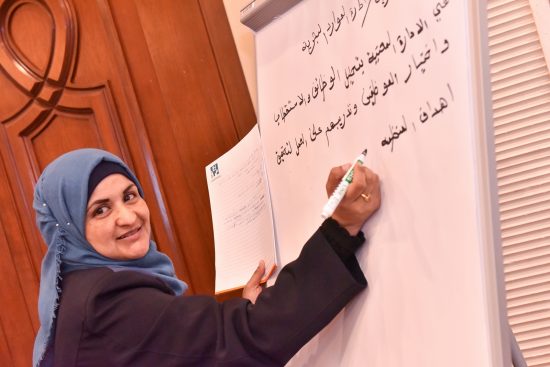 26 Jan

Ministry of Health in Jordan Witnesses Improvements in Human Resources Practices

USAID has emphasized its commitment to improving health sector outcomes and resilience through health systems strengthening under Development Objective 3 (Social Sector Quality Improved), Intermediate Result 1 (Health Status Improved). Through HRH2030, USAID is helping Jordan strengthen its health workforce by improving human resources practices at the Ministry of Health with capacity building interventions. Participants in a two-year human resources training courses are applying their new knowledge and skills to create gradual change throughout the ministry's central and health directorate levels, such as improving orientation, succession planning, and job descriptions.

Prompted by HRH2030 training on orientation, Jihad Al Fakhiri, head of the personnel affairs division at the Ministry of Health's Ramtha Health Directorate, reported, "After appointing new staff members to join the Ramtha Directorate, we decided to apply the knowledge we gained from the USAID-funded HRH2030 and conduct an orientation workshop for them. We managed to mobilize resources from the Jordan Medical Association in Ramtha, [which] covered part of the workshop's expenses. This was the first time we conducted such training at the directorate, and we noticed a great interaction among participants."

The HRH2030 training module on succession planning also motivated Fatima Haded, head of personnel affairs at the ministry's Petra Directorate, to apply her knowledge. She developed a succession plan allowing the directorate to identify successor candidates for critical positions and develop training plans for candidates based on their current and required competencies for those positions. This work comes at an opportune time as the Ministry of Health is facing a critical challenge due to the mandatory 60-year-old retirement age policy. Unless a succession plan is in place for those who retire, key positions may be left vacant or filled by unprepared staff.

Through HRH2030 assistance, the Ministry of Health and Civil Service Bureau developed 79 competency-based job descriptions for key positions and clinical job profiles. The joint initiative introduces levels for each position with associated competency-based job descriptions to allow for career development and improved recruitment.

HRH2030 is working to sustain these and other human resources improvements at the ministry to foster resiliency and long-term impact to the health workforce to strengthen health service provision.

Photo: Always motivated to apply the knowledge she gains from the HRH2030 human resources training course, Fatima Haded, head of personnel affairs at the Ministry of Health's Petra Directorate, developed a succession plan, mission, and vision for the directorate. These steps will contribute to improving human resources practices at the directorate level.