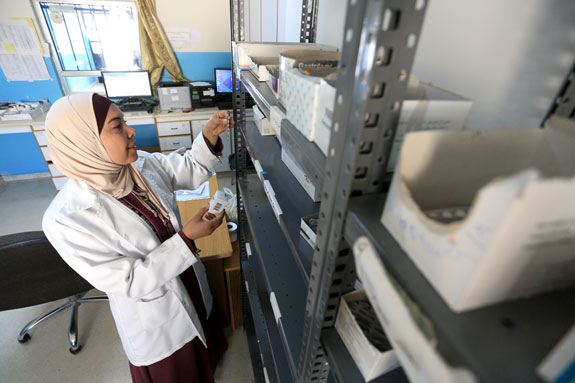 02 May

Promoting Lifelong Learning in Jordan's Health Sector

On April 1, 2018, the government of Jordan officially enacted the new Bylaw for Health Professional License Renewal No. (46) with technical assistance from the United States Agency for International Development's (USAID) HRH2030 program. The regulation requires all health professionals to renew their licenses every five years by participating in continuing professional development activities. The initiative is the first of its kind to systematically develop the broader health workforce in Jordan and is aligned with the country's Vision 2025 goal of achieving universal health coverage.

HRH2030 facilitated the decision-making process and generated evidence to support the government of Jordan's endorsement. Prior to the bylaw, health professionals — with the exception of dentists — could hold their licenses for life without updating their skills and knowledge or actively practicing.

" Continuing education is an essential part of fulfilling human resources standards in order to keep health professionals updated about their technical knowledge." 

— Khitam Amaireh, Quality Coordinator, Moubes Primary Health Care Center

In August 2017, the Minister of Health appointed a national relicensing committee under the leadership of the High Health Council to lead the process of drafting the bylaw. Representatives from HRH2030 and USAID served on the committee, providing technical and operational support. This included generating evidence for the value of continuing professional development through a country comparison and policy review. The HRH2030 team used its findings to advocate for the need and benefits of the bylaw and facilitated its inclusive development process. Other committee members included representatives from the health councils, professional associations, universities, the Ministry of Health, and the Royal Medical Services.

"The Government of Jordan's commitment to continually developing all health professionals' knowledge and skills will enhance the quality of healthcare services in Jordan," said USAID Acting Mission Director Nancy Eslick.

The results of the bylaw could contribute to safer care, shorter hospital stays, and lowered infection rates, leading to more satisfied patients.

"With this bylaw Jordan joins other Arab countries, including Oman, Qatar, the [United Arab Emirates], and Saudi Arabia in enforcing a mandatory license renewal legislation tied to continuing professional development," Edward Chappy, HRH2030 Jordan project director, explained.

"Given the significant status of Jordan's health sector in the region, we realized the importance of reviewing national health system policies, like renewing health professionals' licenses, and adopting a mandatory continuing professional development program," said Dr. Mohammad Al Tarawneh, High Health Council Secretary General and head of the relicensing national committee.

"Regional instability has placed enormous strain on Jordan's health sector. Continuous development of Jordan's health system is a testament to the resilience of Jordan's health sector and the quality of its professionals," Eslick remarked.

While benefiting the Jordanian health system and patients, the new regulation also presents an opportunity for health professionals. According to an HRH2030 study on health worker motivation and retention conducted in 2016, limited opportunities for professional development ranked as the third most dissatisfying factor for health workers. Health workers want these opportunities.

"Continuing education is an essential part of fulfilling human resources standards in order to keep health professionals updated about their technical knowledge," said Khitam Amaireh, quality coordinator at the Moubes Primary Health Care Center, Ministry of Health.

USAID HRH2030 will continue to provide technical assistance to the Ministry of Health and other national health entities by researching factors that influence continuing professional development effectiveness. These findings will contribute to the design and implementation of an evidence-based continuing professional development system for Jordan's health care sector.

USAID remains firmly committed to Jordan's stability and prosperity. Investment in public health saves lives and promotes social and economic progress.

Photo: Quality Coordinator Khitam Amaireh fulfills her duties at the Moubes Primary Health Center in Balqa. Continuing professional development helped Amaireh advance in her career, and now more Jordanian health workers will have that opportunity. Photo credit: HRH2030, 2017.