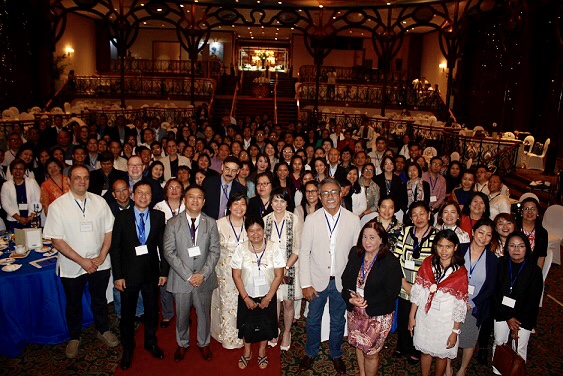 31 May

USAID/Philippines, Department of Health Host Special Event to Launch HRH2030 Activity

With officials from the Department of Health, local government representatives, and stakeholders from Luzon, Visayas, and Mindanao, HRH2030 celebrated the launch of its new Philippines activity on May 29 with an event entitled, "Investing in the Health Workforce Saves Lives." USAID/Philippines Director Lawrence Hardy II and several Department of Health dignitaries, including Sectoral Management and Coordination Cluster Undersecretary Dr. Gerardo V. Bayugo, Secretary of the Autonomous Region in Muslim Mindanao Dr. Kadil Sinolinding Jr., and Undersecretary Dr. Roger Tong-an, delivered keynote statements.

"Our health workers are the backbone of the Philippine health system. The [Department of Health] recognizes the critical role they play towards the achievement of universal health care in the Philippines."

— Dr. Roger Tong-an, Department of Health Undersecretary

Speakers and stakeholders underlined the critical importance of human resources for health (HRH) for the well-being and sustainability of the nation's health system. Participants engaged in a lively open-forum discussion on current HRH challenges and potential solutions. The Philippines has a decentralized health system across its many islands and critical shortages of health workers in remote areas.

"Structural deficiencies of a health system — particularly in health workforce — greatly impact its capacity to deliver equitable and quality health care services, especially in underserved rural areas," added Dr. Tong-an.

As many Filipino health workers migrate to higher-income countries for better wages and to meet the growing international demand for health workers, there is an increasing shortage of in-country health workers to support millions of citizens.

"25 percent of villages do not have a dedicated health worker," underlined Dr. Maria Theresa G. Vera, director of the Human Health Resource Development Bureau.

This lack of health workers leaves a large population without any access to health information or healthcare. Director Vera also noted that existing health workers prefer to work with the public sector, rather than the private sector, for better compensation. However, because they are not always properly informed of available positions in either sector, they may not practice at all.

HRH2030 hopes to address some of these HRH challenges in collaboration with the Department of Health's HRH network. By improving local capacities to develop and manage the health workforce, HRH2030 aims to enhance health workforce capabilities and promote equitable distribution at the primary care level. The activity also will assist the Department of Health in developing an interactive human resource information system to provide meaningful evidence for policy and decision-making. Closing his speech, Secretary Dr. Kadil Sinolinding Jr. expressed his aspirations for HRH2030 to support training of primary health services in remote communities, better data collection in the field, and more systematic activity implementation and monitoring.

"[HRH2030] will further enhance our presence in the villages where I'm anticipating to satisfy the one health worker to one [village] ratio in all areas. With that, [Autonomous Region in Muslim Mindanao] as the most geographically isolated and disadvantaged of all regions, shall perform better with our dedicated health workers and volunteers as they reach the unreached and serve the unserved."

Photo: Participants of the HRH2030 launch gather together in celebration of the program's new Philippines activity. Photo credit: HRH2030, 2018.