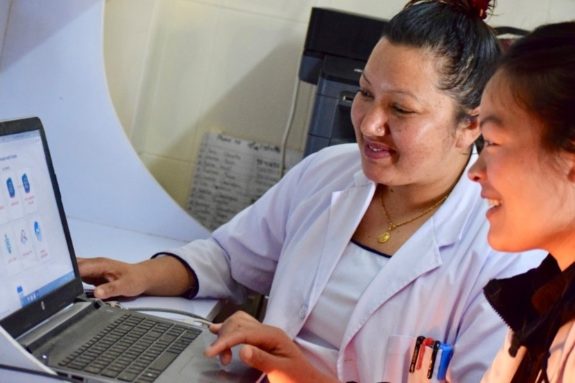 10 Jul

Using Technology to Integrate Health Care Delivery: Podcast with Nyaya Health Nepal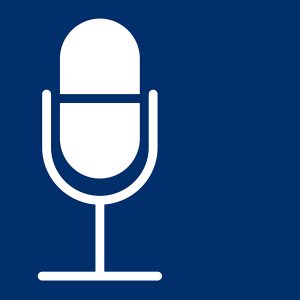 This is the first in a series of podcasts recognizing the winners of the HRH2030 Health Workforce Resilience Prize.
Audio interview with Pratistha Thapa, Senior Partnerships Manager, Nyaya Health Nepal 
(Running time 7:32)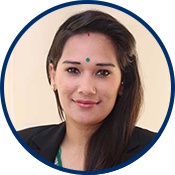 On June 24, 2020, HRH2030 presented Nyaya Health Nepal with the Health Workforce Resilience Prize for their tool, the Nepal Electronic Health Record (EHR) system. HRH2030 Communications Manager Catarina Cronquist chats with Nyaya Health Nepal's Senior Partnerships Manager Pratistha Thapa (pictured) to hear about their prize-winning innovation and their plans for scaling-up the product.
Pratistha, could you tell us a bit about your prize-winning organization?
At Nyaya Health Nepal, we've been caring for underserved populations in rural Nepal since 2008, while simultaneously designing, building, testing, replicating integrated municipal health care delivery systems for government adaptation. We provide free, quality health care through hospitals and a community health worker network supported by a digital record system that ensures holistic care. Our team provides for over 150,000 facility visits, 8,000 surgeries, and over 125,000 home visits across a catchment area of 230,000 annually.
We are so happy to award Nyaya Health with the Health Workforce Resilience Prize. Now let's shift the focus to your prize-winning tool for strengthening resiliency in the health workforce. Could you please tell us about it?
Thank you so much. We are very honored, and we feel privileged to be winning this award. NHN [Nyaya Health Nepal] services are underpinned by our integrated health record system called NepalEHR, an open source tool customized for Nepal's health care system. NepalEHR is designed to give resilience to our staff using it in limited resource settings, as it seamlessly integrates registration, clinical diagnosis and investigations, prescriptions, reporting, and supply chain management as well. It facilitates care coordination across the facility and community-based point of services, integrating data to map diseases, target care, and continuously improve health care or service delivery.
Has the NepalEHR system shown results? Can you explain how it is proven to strengthen resiliency in the health workforce?
NepalEHR coordinates care and integrates data collected by the providers at the facilities and by a team of community health workers who provide consistent, standardized home care. Whether it's a health care campaign, natural disaster, or a situation like the current pandemic, NepalEHR is easily updated and adapted by our medical professionals. With training, community health workers are up-skilled and disseminate the necessary information and support to our catchment population of around 230,000. In the current pandemic, the baseline information we have on our communities and those treated in our facilities will undoubtedly help us to prevent unnecessary deaths and ensure appropriate support to our staff to respond effectively and efficiently as well.
To add on, providing real-time, valid data to the government feeds into the planning process, assists with responding to crisis situations, and helps inform policies in all tiers of the government. It allows the needs of the community to be identified, prioritized, and responded to.
Monitoring the data recorded in NepalEHR helps NHN to continuously innovate and improve the quality of care provided. It highlights the support and the resources needed, adequately assists our staff, and also helps us to analyze the outcomes. Identifying and addressing staff needs, quickly ensures that they have the resources required to empower them with the confidence and the resilience to thrive.
With this HRH2030 prize, what are your plans to scale up NepalEHR? What are your next steps for the year ahead?
This is an exciting time for us as an organization. While continuing to support our current work with NepalEHR, we're looking at it to be scaled as follows: 1) to record new data as we expand the services we provide, which will better depict the healthcare landscape where we work, and 2) on a national level, so more facilities and their staff can benefit from the tool. When NepalEHR is used as a tool to improve the quality of care or to monitor stock levels, like for reducing the risk of running out of vital supplies, the workplace environment for the health workers is significantly improved and it functions better. Thanks to our partnership with the Government of Nepal, and also the recent decentralization of healthcare in the country, NHN has been asked for and actually is in a position to work with municipal and provincial governments to scale NepalEHR. Also, the lack of a streamlined, digital system in Nepal means that the overall healthcare response is not systemic and can potentially lead to differing dissemination of information and treatment. Having one streamlined system throughout the country would provide a uniform support tool for healthcare workers. NepalEHR is also integrated with the national reporting system of data (DHIS2), so scaling up the use of this tool would lead to better government decision-making and government support of health workers. So, we're looking at the scalability of the product in the coming days.
Photo: A health worker uses the NepalEHR system. Credit: Nyaya Health Nepal.