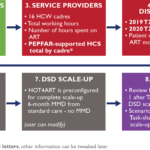 Posted at 16:07h
in
Côte d'Ivoire Resources
,
Eswatini Resources
,
Global Resources
,
HIV/AIDS
,
Lesotho Resources
,
Mali Resources
,
Method for Standardized Use of Site-Level HRH Data (1.6)
,
Performance and productivity
,
Resources
,
South Africa Resources
,
Tools
Updated April 2020: New tool version for rapid use and decision-making! Providing client-centered HIV care requires a strong, well-managed health workforce. In order to deliver effective HIV services—as well as to maintain essential HIV services during public health emergencies—it is important for health facilities, above-site stakeholders,...