12 Dec

Differentiated Service Delivery in High HIV Burden Settings: A Tool for Estimating Human Resource Needs

Posted at 12 Dec 2018

in

Côte d'Ivoire Resources

,

Eswatini Resources

,

Global Resources

,

HIV/AIDS

,

Lesotho Resources

,

Mali Resources

,

Method for Standardized Use of Site-Level HRH Data (1.6)

,

Performance and productivity

,

Resources

,

South Africa Resources

,

Tools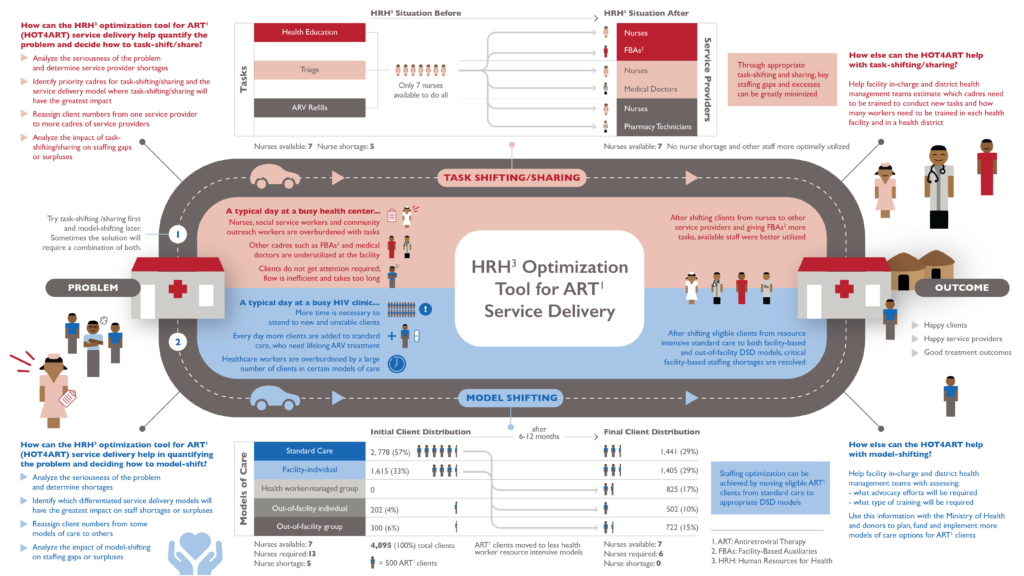 With funding from PEPFAR, HRH2030 has developed, piloted, and field-tested this tool to help health facility staff and district health management teams optimize their health workforce for the roll-out of "Test and Start" utilizing differentiated service delivery (DSD) models. This HRH optimization tool for antiretroviral therapy (ART) – HOT4ART – helps to identify and address staffing gaps by showing decision-makers the impact of reorganizing service delivery on the workforce. Staffing gaps can be effectively addressed by sharing tasks among cadres and by offering stable clients participation in models of care that better meet their needs and offer quality services while requiring fewer interactions with health facilities.
What does the tool do?
This tool enables facility managers (site level) and program planners (above site) to estimate human resource requirements for different DSD models, including:
Staffing needs for implementing one or a combination of HIV service delivery models
Efficient antiretroviral therapy (ART) task distribution among existing health workers to implement DSD
Configuration of DSD and task-shifting/sharing (reassigning tasks from one health worker cadre/type to another) to reduce human resource imbalances (excesses or gaps)
Organization of site-level services to meet daily client needs (infrastructure, work hours, staffing)
Outputs from the tool enable users to make informed decisions for maximizing the use of the available workforce and to generate estimates of additional human resources needs where appropriate. More information about the tool is available here or by accessing the associated content below.
Access the Tool
Access HOT4ART in English or MaxRHS-TAR* in French here
Download
Télécharger
(Version 1.011, updated 12/12/2018 – requires Excel 2010 or later). This latest version is a major update that incorporates user feedback from trainings in Cote d'Ivoire, South Africa, and Zambia, and improves users' experience.
* MaxRHS-TAR : Outil pour maximaliser les ressources humaines pour la santé (RHS) pour la prestation différenciée de services de traitement antirétroviral (TAR)
Associated Content:
Poster: Developing a Standardized Tool for Data Use and Decision-Making to Estimate the HRH Requirements for Implementing Differentiated Care for HIV in High-Burden Settings
Poster: Task-shifting and Sharing Practices During Implementation of Differentiated Care for HIV Service Delivery — Experiences from Uganda
If you are unable to download the tool using the links above, try the ZIP versions: Tool without data (English, French); Tool with case study data (English, French). Please download the Zip file to your 'download' folder on your computer and extract the Excel tool file before opening it in Excel using Windows Explorer or the free 7-Zip app, which can be downloaded here.
Country: Global
Resource Type: Tool
Topic: Performance & Productivity, HRIS and health workforce data, HIV/AIDS