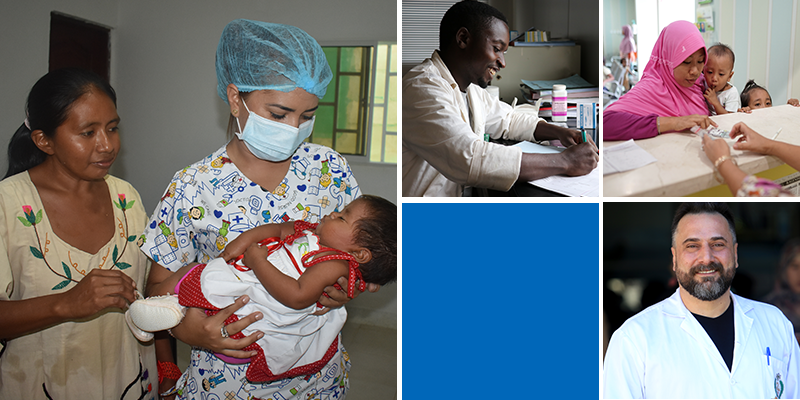 01 Jun

Join us for Voices from the Field 2019: The Role of Human Resources for Health in Optimizing Health Systems
You're Invited!

.
June 13, 2019 | 9:00 a.m. to 11:30 a.m. EDT | Chemonics International, 1717 H Street NW, 1st Floor, Washington, DC

.
USAID is partnering with countries to build high-quality health systems that are accessible, accountable, affordable, and reliable. The provision of health services to meet these "three A's and an R" is contingent on having a strong fit-for-purpose, fit-to-practice health workforce.
Please join USAID and HRH2030 for our second annual "Voices from the Field" event, as seven leaders from our country programs share their experiences in strengthening the health workforce to build high-quality health systems. With perspectives from Colombia, Côte d'Ivoire, Indonesia, Malawi, Mali, the Philippines, and Senegal, our speakers will also address how improved health systems positively impact global health outcomes in maternal and child health, family planning, HIV/AIDS, malaria, and infectious diseases.
See the full program, including speakers' bios:
Download
Presenters:
Kelly Saldaña, Director, Office of Health Systems, USAID Bureau for Global Health
Wanda Jaskiewicz, HRH2030 Project Director, Chemonics
Sarah Scheening, Founder & CEO, Open Development, an HRH2030 Program Consortium member, will moderate a "lightning round" panel of representatives from seven HRH2030 countries, who will frame their program accomplishments around the areas of accessible, accountable, affordable, and reliable health systems:

Juan Barco, Colombia
Dr. Matar Camara, Senegal
Ghislaine Djidjoho, Côte d'Ivoire
Dr. Marilyn Lorenzo, Philippines
Dr. Grace Namaganda, Malawi
Dr. Houleye N'Diaye, Mali
Zuby Sjahrizal, Indonesia