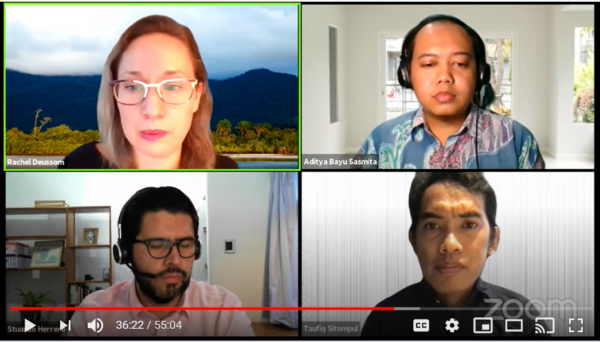 09 Jun

Sharing Our Health Workforce Data Expertise at the Global Digital Development Forum

On Wednesday, May 6, 2020, HRH2030 presented two health workforce data activities at the first-ever virtual Global Digital Development Forum.

HRH2030's first session, Building a Dynamic Ecosystem of Health Workforce Data to Achieve the SDGs, focused on how access to and use of health workforce data is an essential contributor to attaining the health, education, gender, employment and other goals. Highlighting examples from Indonesia, Ethiopia, and the Philippines, the presentation was moderated by HRH2030's Leah McManus, and featured Dr. Shinta Dewi of Indonesia's Ministry of Health; Solomon Woldeamanuel Birru of Ethiopia's Federal Ministry of Health, and Kaycee Manuel of the Philippines Department of Health, discussing how their countries are progressing on the implementation of the World Health Organization's National Health Workforce Accounts. Each of them talked about how they are using data-driven initiatives to address health workforce challenges; the lessons that they have learned from implementing these multi-stakeholder initiatives; and perspectives on next steps for further improving availability and use of health workforce data to  improve health outcomes of their countries.

HRH2030's second presentation, Reinforcing Indonesia's COVID-19 Response with Health Workforce Data, showcased how Indonesia's investments in health workforce information systems have yielded a strategic, rapid, and effective response to the COVID-19 pandemic, while also allowing the health system to continue providing essential services. Led by HRH2030's Rachel Deussom, the session featured Aditya Bayu Sasmita, from Indonesia's Ministry of Health, Anastasia Susanto, from USAID Indonesia, Stuardo Herrera, from HRH2030 consortium member, Palladium; and HRH2030's Taufiq Sitompul. The session included a demonstration of the Ministry of Health's dynamic data dashboard and touched upon policy implications, stakeholder engagement, and business intelligence approaches linked to decision-making using health workforce data, for both emergencies and delivering routine healthcare.

Presenter Aditya Bayu Sasmita was enthusiastic about his experience at the first-ever virtual forum—both as a speaker and as an attendee—saying, "Through this digital forum, I was able to share experiences with attendees from various countries. From our discussion, I got a lot of knowledge and input on how to develop our existing dashboard related to COVID-19 cases and the role of health workers in health facilities. Those inputs were very useful for the development of HRH information systems in managing HRH data."

Dr. Shinta Dewi also noted how easy it was to share information through the online event. "Through this digital forum, I was able to showcase our experience and best practices in managing human resources for health data. Moreover, I also had the opportunity to learn a lot from other countries having similar characteristics to Indonesia. Some of the best practices that were shared might be considered to be incorporated to our processes, to accelerate the development of our HRIS," she noted.

More than 2,600 people logged on from 127 countries to attend the 16-hour interactive convening, which offered 146 sessions related to digital health, responsible data, eGovernment, and other topics across the international development and humanitarian relief sectors. The event was organized by TechChange, USAID, Chemonics, the Digital Impact Alliance, Save the Children, IntraHealth, CRS, and the ICT4D Conference.