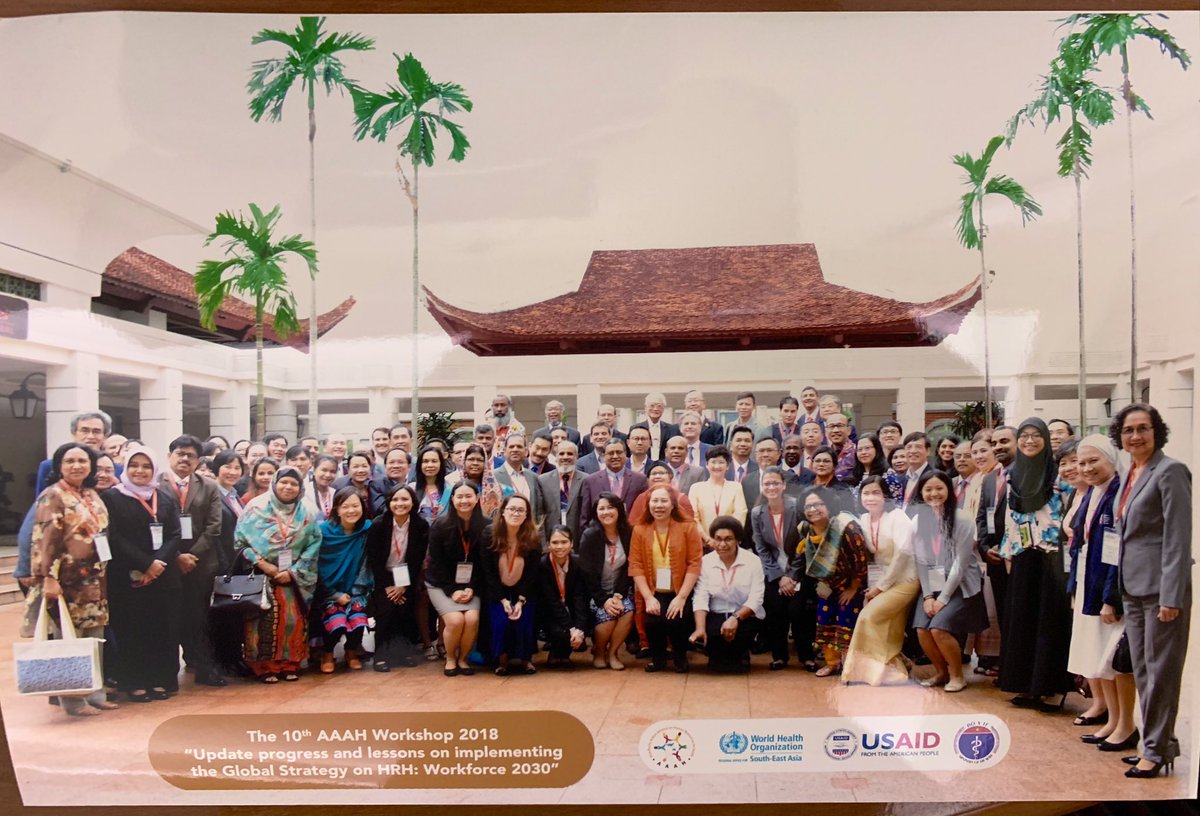 11 Dec

HRH2030 Hosts Side Session at the Asia Pacific Alliance on Human Resources for Health Conference 2018

HRH2030 attended the Asia Pacific Action Alliance on Human Resources for Health (AAAH) 2018 Conference in Hanoi, Vietnam and hosted a side session entitled "Strategies and lessons learned in increasing health workforce efficiencies for progress on the Global HRH Strategy." HRH2030 was represented by Wanda Jaskiewicz, HRH2030 Global Project Director and Dr. Marilyn Lorenzo, HRH2030/Philippines Project Director.

The creation of AAAH was a response to the international recognition of the need for global and regional action to strengthen country planning and action on the health workforce system. As of January 2013, AAAH comprised of 16 members including Bangladesh, Cambodia, China, Fiji, India, Indonesia, Laos, Mongolia, Myanmar, Nepal, Papua New Guinea, Philippines, Samoa, Sri Lanka, Thailand, and Vietnam. The 5 priority actions of the alliance are HRH advocacy, information monitoring, capacity strengthening, knowledge generation, and technical coordination. Below is the agenda of the HRH2030-hosted session along with the presentations of each individual.
---
Panel 1: Building the Future Health Workforce and Workforce Planning and Policymaking
Panelists:
Dr. Mary S. Ruth Politico, Philippines
Medical Officer IV, Planning and Standard Division
Health Human Resources Development Bureau, Department of Health
Presentation: Building the Future Health Workforce and Workforce Planning and Policy-making: Philippines Experience 
Dr. Thinakorn Noree, Thailand
Senior Researcher, International Health Policy Program (IHPP), Ministry of Public Health
Presentation: Education Strategies for Doctor Retention: Thai Experience
Dr. Trisa Wahjuni Putri, Indonesia
Secretary of National Board of Development and Empowerment of HRH, Ministry of Health
Presentation: Indonesia Country Experience
Panel 2: Optimizing the Current Health Workforce and Improving Health Worker Performance, Productivity, and Motivation
Panelists:
Ms. April de los Santos, Philippines
HRM Officer IV, Team Leader for HRH Policy and Network, Department of Health
Presentation: Improving Health Worker Performance and HRH Data 
Ms. Wanda Jaskiewicz, USA
HRH2030 Program Director
Presentation: Using the Life Cycle Approach for a Rapid HIV-HRH Assessment in Indonesia 
Dr. Apriyanti Shinta Dewi, Indonesia
Head of Data and Information Subdivision
National Board of Development and Empowerment of HRH, Ministry of Health
Presentation: HRH Information Systems: Challenges in HRH Data Management
Ms. Sabina Alam, Bangladesh
Deputy Secretary (HR) & Programme Manager (HRD), Human Resources Branch, Ministry of Health and Family Welfare
*Presentation made orally