23 May

WHO Community Health Worker Guideline Recommendations Using HRH2030's Life Cycle Approach

Community health workers play a big role many countries' overall health status, which is one of the reasons why the WHO guideline on health policy and system support to optimize community health worker programmes was heralded when it was released on October 2018. The guideline presents evidence on what is required to facilitate the proper integration of community health workers into health systems and communities, including 15 recommendations.

HRH2030 has been advocating and supporting the dissemination of these guidelines, and in May 2019, made a formal presentation, "Opportunities to integrate and optimize community health workers in health systems: Global and local perspectives," at the CORE Group Global Health Practitioner Conference. To stimulate discussion on this topic from conference participants, HRH2030 created this visual, below, WHO Community Health Worker Guideline Recommendations Using Lifecycle Approach, linking the 15 recommendations to the specific areas of the Health Worker Life Cycle Approach.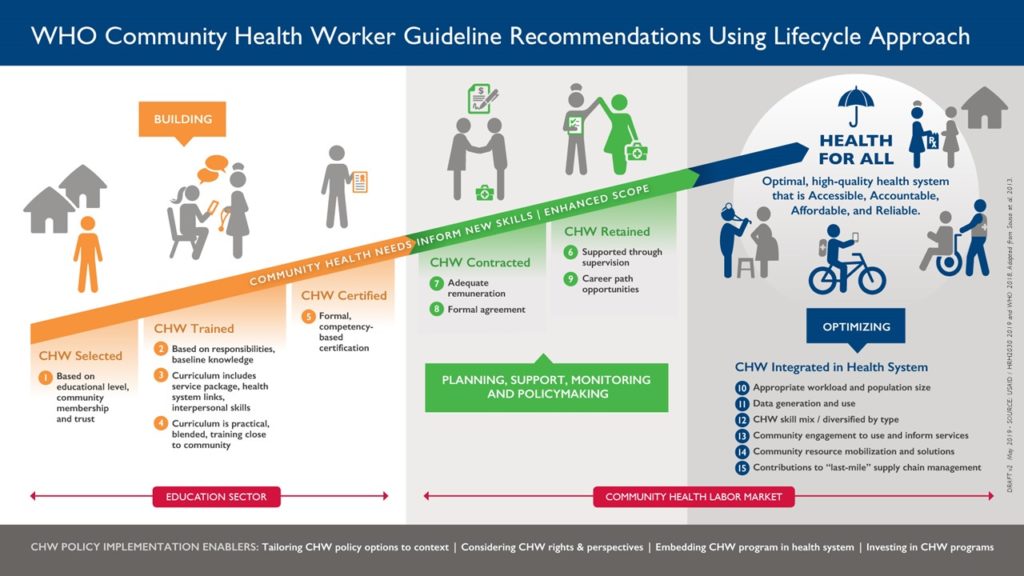 Country: Global
Resource Type: Other
Topic: HRIS and health workforce data, Leadership and governance, Performance and productivity, Skill mix and competency
DOWNLOAD