15 Apr

Event Series & Webinar: Optimizing health worker performance to improve health care quality in low- and middle-income countries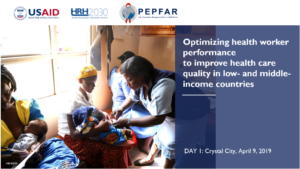 The provision of high-quality health care to individuals, families, and communities requires a skilled, motivated, adequately supported, and equipped health workforce. Many low- and middle-income countries, however, face significant deficiencies in both the quantity and quality of their health workforce. Sub-optimal health worker performance creates challenges to national and global efforts to achieve Universal Health Coverage and Sustainable Development Goals. Numerous strategies exist to support improvements in health worker performance, but it can be difficult to make evidence-based decisions on which strategies to use in which settings.
On April 9th and 10th, 2019 the HRH2030 program hosted an event series and webinar titled "Optimizing Health Worker Performance for Improved Health Care Quality in Low- and Middle-Income Countries." After a featured presentation on the results of the Health Care Provider Performance Review (HCPPR), other high-level health systems stakeholders shared their current efforts, lessons learned, and considered potential opportunities for advancing the agenda for high-quality health services in low- and middle-income countries.

Day 1 and 2 featured presentation by Alexander Rowe (Centers for Disease Control and Prevention)
Day 1/ April 9 event in Crystal City (Arlington, VA)
Presenters (in order of appearance):
Welcome: Wanda Jaskiewicz, HRH2030 | Chemonics
Opening remarks: Lisa Maniscalco, USAID/Washington
Alex Rowe, Centers for Disease Control and Prevention
Rachel Deussom, HRH2030 | Chemonics
Kathleen Hill, Maternal and Child Survival Program | Jhpiego
Luigi Nuñez, Population Services International
Dominique Zwinkels, People That Deliver | Global Health Supply Chain – Procurement and Supply Management, Chemonics
Discussion moderator: Rachel Marcus, USAID/Washington
Associated content:
Webinar recording (3:45)
Day 2/ April 10 event in Foggy Bottom (Washington, DC)
Presenters (in order of appearance):
Welcome: Wanda Jaskiewicz, HRH2030 | Chemonics
Opening remarks: Lisa Maniscalco, USAID/Washington
Alex Rowe, Centers for Disease Control and Prevention
Rachel Deussom, HRH2030 | Chemonics
Edson Araujo, The World Bank Group
Jeff Markuns, Primary Health Care Performance Initiative
Kathleen Hill, Maternal and Child Survival Program | Jhpiego
Peter Graves, BroadReach
Discussion moderator: Eric Sarriot, Save the Children
Associated content:
Additional resources from the event:
Country: Global
Resource Type: Presentations; Video/Webinar
Topic: Health Workforce Performance and Productivity