15 May

Indonesia HIV-HRH Assessment: Tools and resources to optimize the health workforce to promote client-centered HIV care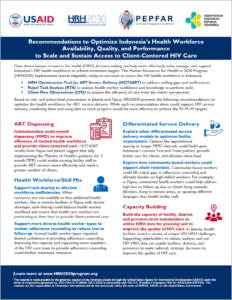 Read this content in Bahasa Indonesia.
Indonesia's Ministry of Health has rolled out strategic policies to advance HIV/AIDS epidemic control. Data-driven HRH decision-making can help more effectively train, manage, and support Indonesia's HIV health workforce to achieve targets. To implement these policies effectively will require an adequate quantity, quality, and skill mix of health care workers (HCW).
HRH2030 and Jakarta-based data firm SOLIDARITAS supported sites in Jakarta and Papua to implement adaptable, practical tools to optimize ART service delivery and make dynamic HIV-HRH decisions. This report synthesizes the high-level findings, common themes, opportunities, and recommendations for HIV-HRH planning and policies to improve HIV outcomes. It draws from findings from the unique service delivery contexts of Papua and Jakarta, including assessment results, observations from stakeholder consultations and workshops, and reflections on findings from the HIV-HRH policy and site-level assessment conducted in 2018.
---
[Bahasa Indonesia]
Penilaian Terhadap SDMK Kesehatan dalam program HIV di Indonesia: Mengoptimalkan ketersediaan, mutu, dan kinerja tenaga kesehatan untuk meningkatkan skala dan menunjang akses perawatan HIV yang berpusat pada klien
Kementerian Kesehatan Indonesia telah meluncurkan kebijakan strategis untuk mengembangkan dan meningkatkan pengendalian HIV/AIDS. Pengambilan keputusan SDM Kesehatan berbasis fakta/data dapat membantu melatih, mengelola, dan mendukung SDMK HIV Indonesia untuk mencapai target dengan lebih efektif. Menerapkan kebijakan-kebijakan tersebut dengan efektif akan membutuhkan jumlah, mutu, dan kombinasi keterampilan tenaga kesehatan yang memadai.
HRH2030 bekerjasama dengan LSM SOLIDARITAS yang berbasis di Jakarta, telah mengimplementasikan instrument (alat) di situs layanan di Jakarta dan Papua yang praktis dan dapat diadaptasi untuk optimalisasi layanan ART serta pengambilan keputusan yang dinamis mengenai SDM Kesehatan HIV di Indonesia. Laporan ini memadukan temuan tingkat tinggi, hambatan secara umum, peluang, dan rekomendasi untuk perencanaan dan kebijakan SDM Kesehatan HIV guna meningkatkan hasil program HIV. Laporan ini dibuat dari temuan yang diperoleh dari konteks unik pemberian layanan di Papua dan Jakarta, termasuk hasil penilaian, pengamatan dari konsultasi dengan pemangku kepentingan dan hasil lokakarya, serta refleksi mengenai temuan dari penilaian tingkat kebijakan dan fasilitas kesehatan SDMK HIV tahun 2018.
---
Tools and Resources | Alat dan Sumber Daya
Results and Recommendations | Hasil dan Rekomendasi
[English]
Report: Indonesia HIV and Human Resources for Health (HRH) Assessment: Optimizing health workforce availability, quality, and performance to scale and sustain access to client-centered HIV Care
One Pager: Recommendations to Optimize Indonesia's Health Workforce Availability, Quality, and Performance to Scale and Sustain Access to Client-Centered HIV Care
[Bahasa Indonesia]
Laporan: Pelinaian Terhadap SDMK Kesehatan dalam program di Indonesia
One Pager: Rekomendasi untuk Mengoptimalkan Ketersediaan, Mutu, dan Kinerja Tenaga Kesehatan Indonesia utuk Meningkatkan Skala dan Mendukung Akses Perawatan HIV yang Berpusat pada Klien
Results of Client Flow Observations (CFO) and Rapid Task Analysis (RTA) | Hasil di Pengamatan Alur Klien (CFO) dan Analisis Tugas Cepat (RTA)
Results of HRH Optimization Tool for ART (HOT4ART) | Hasil di Alat Optimalisasi SDMK untuk ART (HOT4ART)
Performance and Productivity Toolkit (English)
HOT4ART tool and guides | HOT4ART alat dan panduan pengguna
CFO tool | CFO alat
RTA tool | RTA alat

Other Helpful Resources
DifferentiatedCare.org: A Decision Framework for Antiretroviral Therapy Delivery
World Health Organization Guideline on Health Policy and System Support to optimize Community Health Worker Programmes
Country: Indonesia
Resource Type: Report
Topic: Performance and productivity, Skill mix and competency, Strengthening HRH in Indonesia