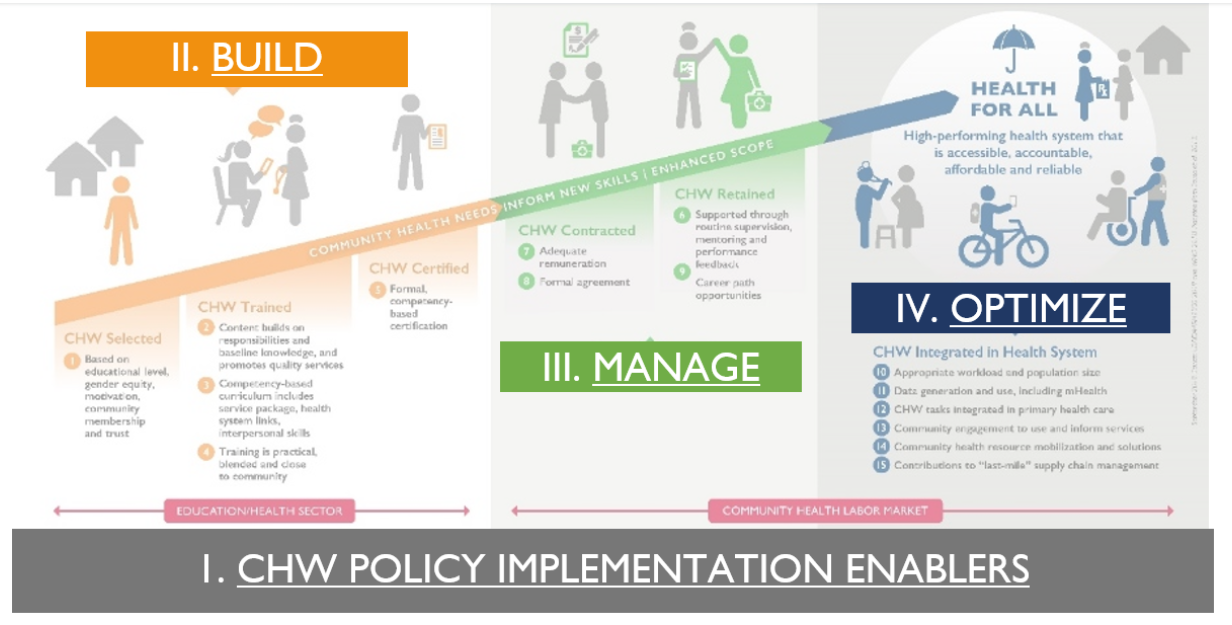 29 Jun

Introducing the USAID Flagship Community Health Worker Resource Package

Strong and vibrant community health systems—including community health workers (CHWs)—are an essential component of primary health care, which fosters health for all and moves us closer to achieving global health goals. However, in many contexts CHW programs are still working to professionalize, sustain, and integrate CHWs within the health workforce and health systems. Through a series of convenings and reviews, HRH2030 has launched the United States Agency for International Development (USAID) Flagship CHW Resource Package. It compiles crème-de-la-crème resources for strengthening CHW programs that resulted from USAID's Bureau for Global Health investments, as well as what  flagship implementing partners have produced and prioritized. A dynamic microsite of tools, research, guides, approaches, and best practices recommended by USAID's flagship project community health experts, the site will be updated as emergent resources are recommended by flagship experts.

Here are some highlighted state-of-the-art resources for national CHW stakeholders—such as Ministries of Health, implementing partners, USAID missions, UNICEF country offices, and investors of community health—to consider when seeking to build, manage, and optimize the community health workforce.

Community Health Worker Assessment and Improvement Matrix (CHW AIM): Updated Program Functionality Matrix for Optimizing Community Health Programs [TOOL, 2018]

Updated in 2018, this tool supports CHW program design and/or improvement, including cross-cutting policy implementation enablers and almost all of the WHO recommendations. The Community Health Impact Coalition has applied the CHW AIM tool to assess community health worker program design or implementation and identify strategies to improve performance. When it was shared at the Dhaka CHW Symposium side meeting, CHW program leaders in Liberia shared that it was a valuable tool for tracking programmatic improvements on a quarterly basis.

Health for the People: National Community Health Worker Programs from Afghanistan to Zimbabwe [REPORT, 2020]

For national CHW stakeholders seeking to glean global knowledge and examples of how CHW programs have been strengthened, this comprehensive report edited by CHW global expert Henry Perry from the USAID Maternal and Child Survival Program shares 29 case studies from countries that provide comprehensive contextual and systems support information and summarizes available information on CHW role and performance.

Community Health Academy: Strengthening CHW Programs [COURSE]

This free, 6-week, online course developed by Harvard EdX and Last Mile Health was endorsed by USAID flagship partners. Requiring two to four hours per week, it is taught by a faculty network of leading community health innovators from around the world. National CHW stakeholders may find useful examples in the course to apply to their own context.

Community Health Performance Metrics Framework [RESOURCE & ARTICLE, 2019]

To guide governments and implementing agencies in the deployment of standardized metrics for measuring and monitoring CHW program performance within the context of the broader health system, this consolidated framework and metrics can be applied at various stages of program planning, implementation, review, and scale. It was developed through USAID's Integrating Community Health initiative and the Population Council.

CHW Coverage and Capacity (C3) Tool [TOOL, 2019]

Designed to estimate the number, geographic distribution, and scope of CHWs needed to achieve community health goals, the C3 Tool is an Excel-based tool that models different options for CHW allocation and engagement, following the release of the USAID MCSP's CHW Reference Guide chapter on CHW Roles and Responsibilities.

Check out the complete resource package to learn more and consider how the resources can be applied within your CHW programs!