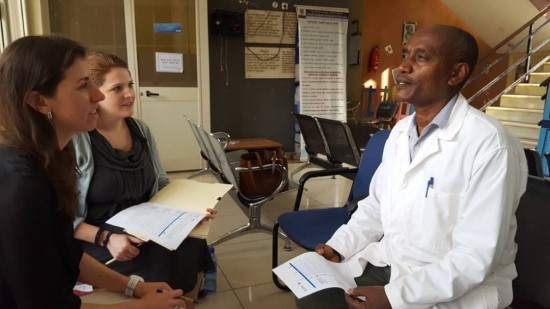 30 Mar

Three Main Takeaways: Testing the Gender Competency Framework in Ethiopia

HRH2030 field tested our "Gender Competency Framework for Family Planning Providers" in Ethiopia in March 2020. The team consisted of Samantha Law, HRH2030 gender lead; Andrea Poling, HRH2030 deputy project director; and Meskerem Damene, local gender consultant. As a follow on to the June and July 2019 validation in the Philippines, the objective of this trip was to ensure that this global resource's potentially complex concepts translate to family planning providers in their local context.

"Do I provide equitable services to women, men, girls, and boys?" This is an important question that most service providers are probably not asking themselves when they go to work every day. In the slew of health care inquiries directed to service providers daily, the pressing consideration of gender sensitivity is often overlooked. And yet, gender norms—how a society ascribes day-to-day roles, rights, and responsibilities to women and men—play a significant role in client-provider interactions. Reproductive health or family planning providers, in particular, have great potential to be change agents in this area. By offering quality, gender-sensitive, transformative services, they can enable clients to make voluntary and informed decisions about their family planning needs, improving both gender equality and reproductive health outcomes.

We traveled to Ethiopia looking to add to the knowledge we gained from field testing the gender competency content in the Philippines and seeking to ensure it would resonate in this very different context. Ethiopia emerged as a particularly interesting place for this exercise. For one, the Government of Ethiopia had already begun to advance similar priorities. An objective of their 2015-2020 Health Sector Transformation Plan is to develop "Compassionate and Respectful Care" among health professionals to "consider patients as human beings with complex psychological, social, and economic needs and provide person-centered care with empathy." Also, to have "respect for and facilitation of patients' and families' participation in decisions and care."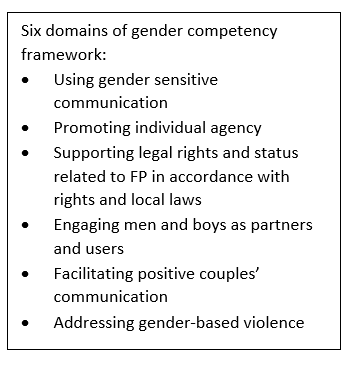 Over the course of two weeks, we met with providers and stakeholders in urban and rural, public and private, and large and small facilities to discuss the six domains of gender competency (see box at right). The feedback we received will be compiled with that from the Philippines, and used to revise and update our Gender Competencies for Family Planning Providers resources. Here are our top three takeaways:
Gender competence is for everyone.
The Gender Competency Framework for Family Planning Providers is meant for all cadres. Midwives, doctors, nurses, pharmacists, and community health workers can all use it in discussions about family planning. But in Ethiopia we were reminded that high-quality, accessible health services encompass more than traditional health worker cadres. Guards, receptionists, and cleaning staff also play an important role in providing equitable services. One provider told us, "Reception matters! People who come in for family planning often don't talk to me first—they might see the guard first, or a cleaner. If that person is not welcoming and respectful, they already begin to lose trust and feel uncomfortable. I make sure all staff at the facility know to welcome anyone who comes through, especially young women or men." It is important for all members of the health facility staff to demonstrate gender-sensitive communication. If an unmarried woman's first impression of a health facility is someone saying, "why are you here, you're too young for this!" she is unlikely to feel comfortable discussing her family planning needs, even if the family planning provider she sees is gender competent.
There are unique opportunities for engaging men and boys with community-based health workers.
One of the six elements of gender competency for family planning providers is engaging men and boys as supportive partners and users of family planning, while ensuring women's rights in the decision-making process. On the global level, research shows that engaging men can play a key role in accelerating global family planning goals such as Family Planning 2020. In Ethiopia, providers noted that there are many myths circulating around family planning methods and that, as a result, it is common for men to prevent women from making decisions to use or not use family planning. They also shared stories of women asking for early implant removal because their husbands did not approve. By engaging men and boys, myths could be dispelled, and voluntary family planning could become a shared responsibility. New contraceptive users could be added.
But, providing information to men and having them involved in discussions about family planning can be challenging especially if they are not coming into health facilities for family planning services and information. In Ethiopia, many of the facility-based nurses, midwives, and doctors we spoke to shared that their family planning clients were 99 percent female. However, Ethiopia is also unique in that it has formalized its community health extension program— Health Extension Workers (HEWs). One bright spot shared by providers and stakeholders we spoke to in Ethiopia is that HEWs may expand the number and type of conversations family planning providers have with men and even couples about family planning at the household level.
Complex health situations require nuance for effective gender approaches.
Another critical element of gender competency for family planning providers is addressing gender-based violence (GBV). In developing our Gender Competency Framework for Family Planning Providers, this is one of the most challenging areas of focus because each country's health system has varying levels of sophistication and readiness to consider gender-based violence. For example, when we first field tested the content of the gender competency framework for family planning providers in the Philippines, the content of the GBV domain resonated with providers and the existing systems for GBV. While many providers shared they did not feel they had adequate training on GBV, they still recognized what it was and could discuss the interagency systems for referring and handling GBV. However, in Ethiopia the situation is much different, with fewer resources for addressing GBV and less understanding among both clients and providers of the definitions of GBV. As a result, one of our biggest takeaways from field testing the competencies in Ethiopia is a need to provide more detail on contextualization of the competencies, particularly the GBV section. For instance, the first competency listed in this domain had previously been "Can list the common signs and symptoms of GBV or GBV risk factors." Now, we realize we need to add in more elemental competencies, such as knowledge of the definition of GBV and intimate partner violence and details about doing no harm before we release the updated Gender Competency Framework for Family Planning Providers later this year.
In addition to releasing the updated framework to incorporate feedback and examples from the Philippines and Ethiopia, HRH2030 is also developing a training on gender competency for family planning providers and a version of HRH2030's lifecycle approach which incorporates gender competencies. Both will contribute to increasing family planning service providers' understanding of how gender dynamics influence provision of equitable services. Coming soon!
Photo: Andrea Poling (far left) and Samantha Law (second from left) listen to a health worker in Ethiopia during the testing and validation of the HRH2030 Gender Competency Framework. Credit: HRH2030, 2020.