19 Dec

Webinar: On the Road to One Global Human Resources for Health Data Platform — Lessons from Ethiopia, Indonesia, and the Philippines on Implementing National Health Workforce Accounts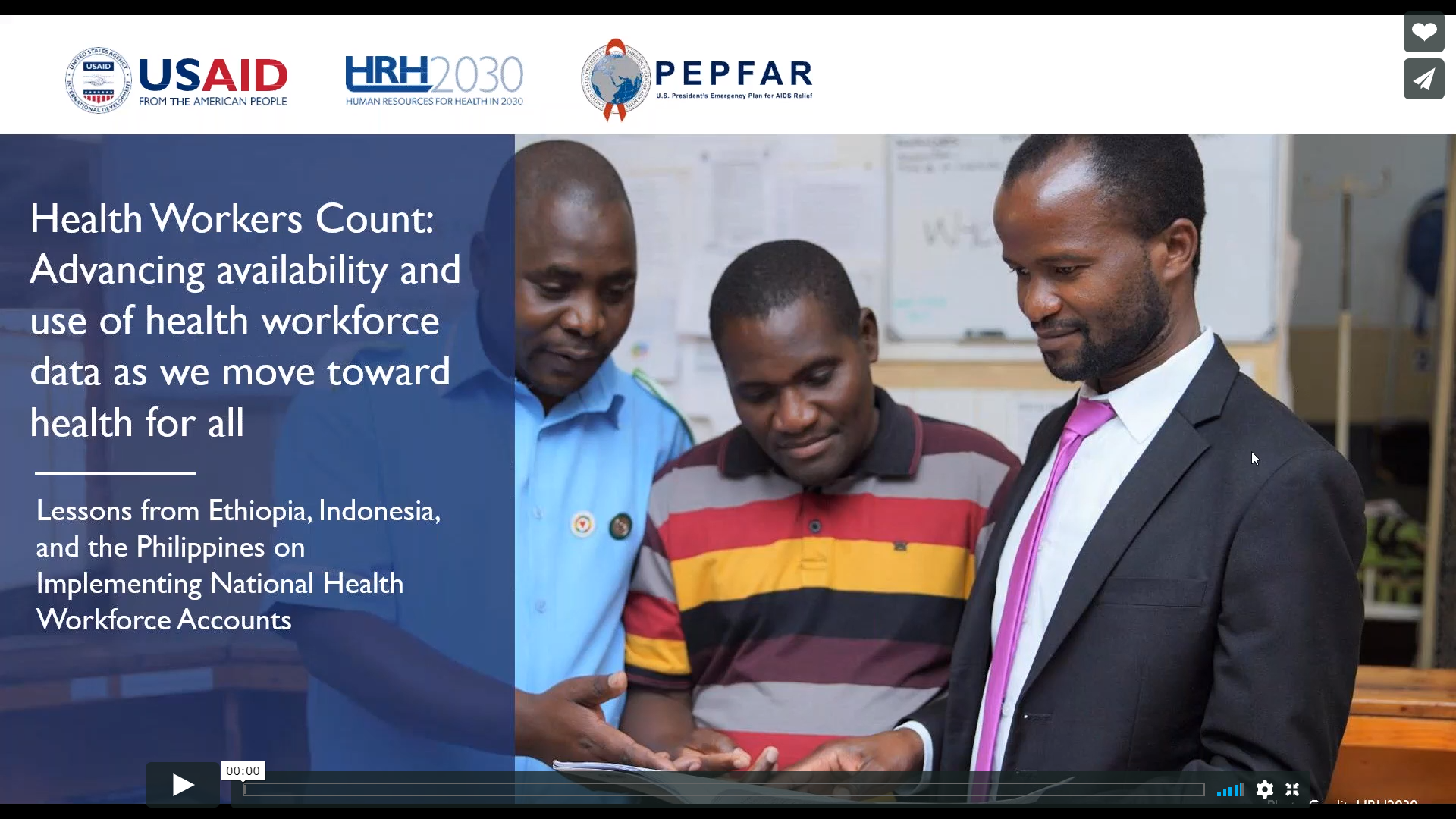 Webinar (December 12, 2019, 1 hr, 34 min): It's been three years since the World Health Assembly called for countries to implement National Health Workforce Accounts—a global system designed to "progressively improve the availability, quality, and use" of health workforce data through a standardized set of indicators. For countries, NHWAs provide comprehensive data on the state of the health workforce that can be used to inform human resources for  health (HRH) strategies for strengthening service delivery for HIV/AIDS, family planning, maternal and child health, infectious diseases and other health areas. For the global community, NHWAs will support efforts to achieve Universal Health Coverage and the Sustainable Development Goals.
Ethiopia, Indonesia, and the Philippines, where HRH2030 has been working with ministries of health and their partnering agencies to advance NHWA implementation, have lessons to share regarding enabling environments, innovations for systems interoperability, and how this new data platform can advance UHC. This webinar explores NHWA systems and processes, USAID investments in strengthening health workforce data, the progress of NHWA implementation from the World Health Organization (WHO) perspective, and case examples from Ethiopia, Indonesia, and the Philippines.
Presenters:
Diana Frymus, Branch Chief, Health Workforce, USAID Global Health Bureau, Office of HIV/AIDS: USAID Priorities in Advancing Use of Health Workforce Data
Khassoum Diallo, Coordinator, Data, Evidence and Knowledge Management, Department of Health Workforce, WHO: Updates on NHWA Implementation and Reflections on Global Progress
Solomon Woldeamanuel, Federal Ministry of Health, Ethiopia: An Enabling Environment for NHWA Implementation
Shinta Dewi, Ministry of Health, Indonesia: Using Innovative Practices in Interoperability and Business Intelligence to Operationalize NHWA
Ruth Politico, Department of Health, Philippines: NHWA in the Context of Universal Health Coverage
Leah McManus, Technical Advisor, HRH2030, Moderator
Associated Content:
NHWA Webinar Master Slide Deck
Blog: National Health Workforce Accounts: Better Data for Better Decisions
Country: Global, Ethiopia, Indonesia, and the Philippines
Resource Type: Video/Webinar
Topic: National Health Workforce Accounts, HRIS and health workforce data