30 Nov

Optimizing Indonesia's Health Workforce to Advance the "Test and Treat" Policy for Sustained Epidemic Control

For Indonesia, the 2018 World AIDS Day theme of "Know your Status" resonates strongly. This year, the Indonesian Ministry of Health launched the "Test and Treat" policy, guaranteeing that any Indonesian with a positive status can (and should) start immediately on antiretrovirals (ARV). The government hopes that the policy will encourage more at-risk and key populations to get tested, be aware of their status and obtain needed treatment. This policy is critical step toward advancing epidemic control.

The Launch of Test & Treat in Indonesia

According to the Indonesian Ministry of Health, of the estimated 652,000 people living with HIV in the country in 2016, about two-thirds of them did not know their HIV-positive status. The launch of the Test and Treat policy will result in increased workload of Indonesia's health workers. In particular, Jakarta is a Fast-Track city, with ambitious targets to implement Test and Treat. How should the ministry plan to ensure that all people living with HIV who know their status can start treatment and receive care from an available team of well-skilled health workers?

To support the Ministry of Health to identify ways to optimize the existing health workforce who support HIV services in Indonesia, HRH2030 undertook an assessment of the human resources for health (HRH) – examining both the policies and the site-level realities of policy implementation. The assessment asked: How and where does implementation need to be improved to make the most of the health workers Indonesia has? What needs to happen so everyone can benefit from Test and Treat?

Optimizing Indonesia's Health Workforce to Sustain Epidemic Control

To understand how and where implementation needs to be improved, the site-level assessment took a quality improvement-inspired approach lent from the HRH2030 Toolkit on Optimizing Health Worker Performance and Productivity to Achieve 95-95-95 Targets. At health facilities in Jakarta, HRH2030 undertook a step-wise process to identify HIV service delivery gaps and to adapt various tools that identify the health workforce issues potentially contributing to those gaps. The process and tools HRH2030 used, what information this brought to the fore, and highlights from the process are described below: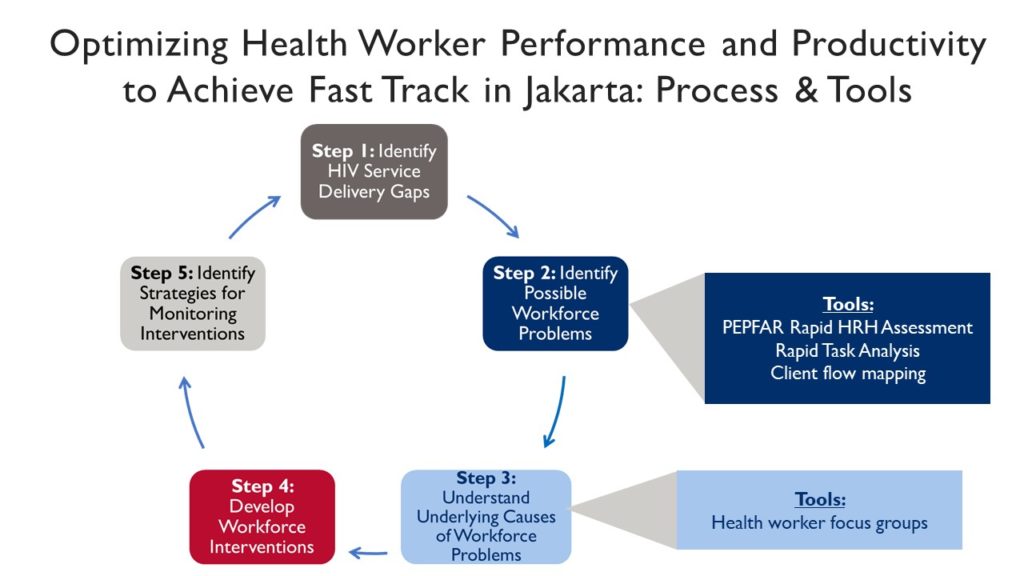 The assessment team first used the PEPFAR Rapid Site-level Health Workforce Assessment Tool, which provided information on health worker types, number, allocation, capacity, and the facility manager's insights on potential HRH barriers. Relative to many HIV service delivery units in other low- or middle-income countries with staffing levels similar to those in Indonesia, site managers reported having a reasonable service volume workload at the time, so their interest to plan for future increased service volume is timely.
Another critical step in the assessment was applying the HRH2030 rapid task analysis approach. HRH2030 adapted this tool based on Indonesia's scope of HIV care for each type of health worker so that for each task, health workers self-identified knowledge of their tasks, as well as the level of confidence that they may have performing the tasks related to HIV/AIDS services. On average, health workers reported having advanced or sufficient knowledge for about three-quarters (76.5 percent) of the HIV service delivery tasks assigned to them and expressed confidence in their ability to perform over two-thirds of these same tasks (69.6 percent). For example, 100 percent of doctors and 50 percent of nurses confirmed they had at least the necessary or advanced knowledge required for initiating ART each site, respectively. Further, 90 percent of doctors and 50 percent of nurses felt confident applying their skills to initiate ART. For adherence counseling, 90 percent of doctors and 60 percent of nurses reported sufficient knowledge for adherence counseling; 80 percent of doctors and 60 percent of nurses reported confidence performing this important task to promote viral load suppression.
To further understand the underlying causes of workforce problems related to HIV/AIDS services in facilities, HRH2030 did client flow mapping, working with community counselors to track ART patients during their visit to the facility to understand how long they spent getting refills: on average, patients spent half (51 percent) of their time in the waiting room, with the total length of the visit ranging from 18 to 92 minutes.
These were followed by health worker focus group discussions, to map out health worker flows and provide enriching information about each site's HRH situation, including specific health workforce competency gaps, issues of health worker engagement, inefficient processes and/or poor staff or task allocations. While many health teams confirmed sufficient staffing in terms of numbers, they noted that doctors and nurses often spent significant time conducting mobile testing and outreach, reducing their availability for more highly skilled tasks. Management of human and material resources, clarifying roles, responsibilities, data use processes, and referral system procedures were all areas of improvement identified through focus groups.
Another part of the assessment was the application of HRH2030's Tool for estimating HRH needs. There was interest in considering potential site-level approaches for differentiated service delivery models for patients who have successfully adhered to treatment for at least one year. However, most people living with HIV in Jakarta are within key populations with other risk factors that may require more frequent facility-based contact with a skilled health worker. Differentiated care is not currently a recommended approach but may be considered as ARV volumes increase in the future.
HRH2030's HIV-HRH assessment in Indonesia has provided useful evidence to equip planners and managers with a snapshot of their HRH priorities so that they can better train, support, allocate, and manage health workers to deliver the HIV services needed. With the launch of Test and Treat this year, and deliberate, planned investments in the health workforce, Indonesia will be successfully "Fast Tracked" to sustained epidemic control. As one district health manager we met during the assessment noted, "we already have all the health workers that we need to meet HIV targets. Now we just need to better manage and support them."