15 Oct

E-Learning Platform Addresses Health Worker Competencies throughout the Philippines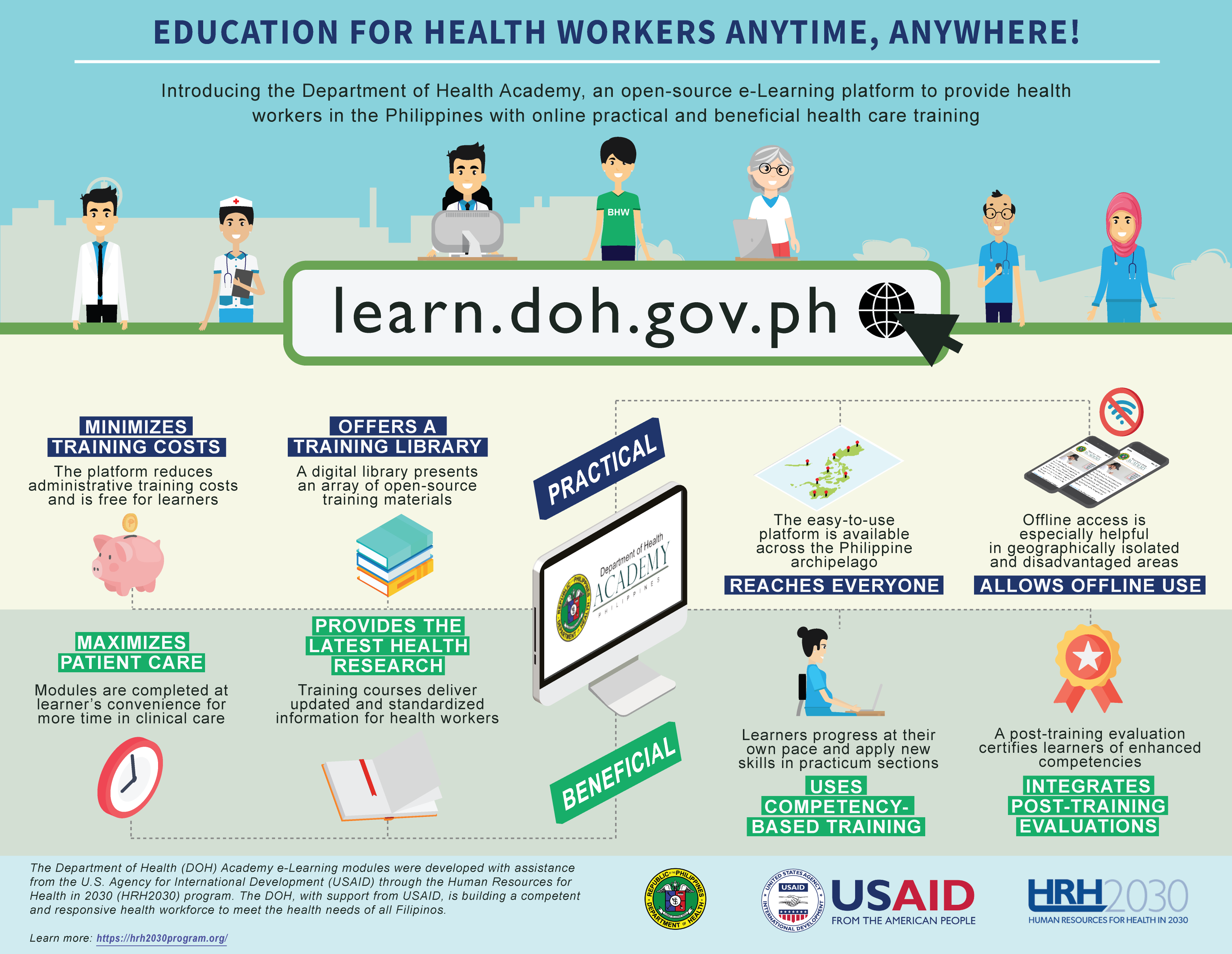 "The Philippines just passed the Universal Health Care Act in February 2019, so now is a perfect time for the country to elevate the training of human resources for health beyond merely producing adequate numbers of practitioners," says Dr. Marilyn Lorenzo, HRH2030 Philippines Project Director.
As in many other countries, the Philippines faces imbalances in the development of "fit-for-practice" health workers who are trained to meet the most pressing needs of the communities they serve. According to a recent study, only half of tuberculosis (TB) service providers reported that they had received training on TB infection control, and only one in seven received the training in the past two years. In May 2018, HRH2030 began collaborating with the Philippines Department of Health (DOH) to strengthen the health workforce to better address three of the country's key public health needs: TB control, family planning, and maternal and child health. Together, HRH2030 and the DOH created an e-learning initiative through the DOH Academy, a national-level virtual training entity mandated to provide online continuing professional development opportunities for licensed Filipino health professionals. With the e-learning initiative, the DOH Academy has integrated training modules on TB infection prevention and control and patient-centered family planning into a cloud-delivered platform. An internet-free option expands the reach of critical competency-based training programs to health workers throughout the Philippines, even in geographically isolated and disadvantaged areas.
The attached infographic highlights the benefits the DOH Academy will bring to health workers in the Philippines as well as the value it brings to the health workforce.
"What's good with this e-learning initiative is that it provides education for health workers anytime, anywhere," shared USAID/Philippines Acting Mission Director Patrick Wesner.
By mobilizing new and up-to-date learning resources, e-learning can quickly train tens of thousands of health workers simultaneously to fill in competency gaps, improve service delivery, and support better health outcomes.
Related Resources:
Three Questions with Roxanne Zaghab: Innovating for Improved Health Worker Training
Elated About e-Learning: A Critical Tool for Advancing UHC
Introducing Online Training for Health Workers in the Philippines
Philippine Department of Health Launches e-Learning Platform with Support from USAID's HRH2030
Country: Philippines
Resource Type: Other
Topic: Improving Access to Quality Health Services in the Philippines; skill mix and competency; productivity and performance
DOWNLOAD