28 Jun

HRIS Status Review in Indonesia: Results and Recommendations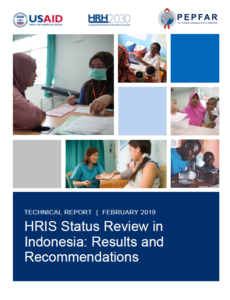 A high-performing health workforce is an essential driver for strengthening health systems. Having reliable, standardized, up-to-date, complete, and quality health workforce data is critical for planning and decision-making at the country level. To combat the issue of siloed and disparate systems and data sources, a central human resources information system (HRIS) is important to ensure a base level of standards, sharing of data, governance, and interoperability between complementary systems, including multisectoral HRIS. 
In 2018, the Ministry of Health of Indonesia and HRH2030 administered the HRIS Assessment Framework as a review of the functionality and capacity of the ministry's human resource information system, SI-SDMK. The review resulted in a mapping of the flows of human resources for health (HRH) data, a mapping of stakeholders of HRH data, and documentation of motivations and barriers to data entry and use. Finally, the review team made recommendations to enhance the capacity of the SI-SDMK in support of improved interoperability, data analytics, and decentralized use of the system and data. 
This report presents the HRIS status assessment review process as well as the results of the review and recommendations, next steps, and lessons learned.  
Associated Content:
https://hrh2030program.org/where-we-work/indonesia/ 
https://hrh2030program.org/hris-status-assessment/ 
https://hrh2030program.org/supporting-nhwas/ 
Country: Indonesia
Resource Types: Report
Topic: HRIS Status Assessment
DOWNLOAD