12 Jun

HRIS Status Assessment in The Philippines: Results and Recommendations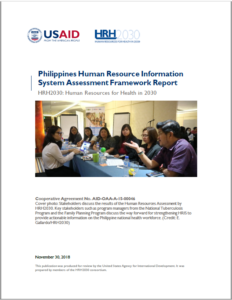 The Philippines faces increasing out-of-pocket health expenditures and demand for health services, and outcomes in maternal and child health, family planning, and tuberculosis remain weak. Until recently, the country's existing human resource information system (HRIS)—as well as the data within these systems—has had a limited scope and could not provide the comprehensive picture needed to develop workforce policies and plans to respond to the priority health service needs. Data availability and use became increasingly critical when the country passed its Universal Health Care Act in 2019, which included a call for a health worker registry. In addition, the government committed to implementing National Health Workforce Accounts to respond to regional and global reporting needs and to improve the availability and use of quality HRH data.
In June 2018, HRH2030 applied the PEPFAR HRIS Assessment Framework (HAF) tool to assess the maturity of HRIS functionality and capacity within the Philippines Department of Health and the Human Resources for Health (HRH) Network. The HAF provides a structure to assess the developmental stage of the HRIS by measuring the functionality and capacity of the system, examining eight functionality areas and eight capacity areas. The assessment involved interviews with 26 key informants over a three-week period, researching 22 different information systems that capture HRH data.
This report presents the HRIS status assessment review process as well as the results of the review and recommendations for developing or enhancing data standards, data quality, data use, and HRIS leadership.
Associated Content:
Overview: HRH2030 HRIS Status Assessment activity 
HRH2030 HRIS Assessment in Indonesia 
HRH2030 HRIS Assessment in Madagascar
Supporting National Health Workforce Accounts (NHWAs)
Country: Philippines
Resource Types: Report
Topic: HRIS Status Assessment
DOWNLOAD