21 Nov

Brochure: Strengthening Community Health Worker Programs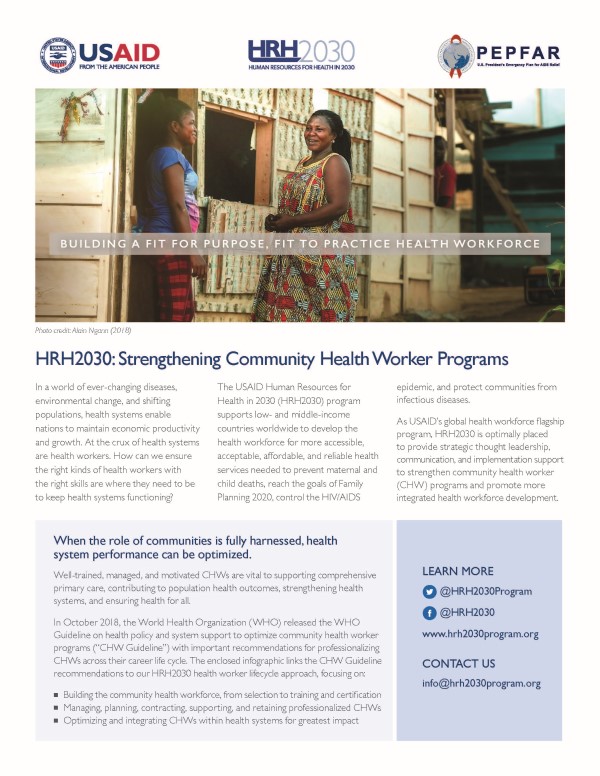 When the community health workers are well-trained, managed and motivated, health systems performance is optimized. As USAID's global health workforce flagship program, HRH2030 is optimally placed to provide strategic thought leadership, communication, and implementation support to strengthen community health worker (CHW) programs and promote more integrated health workforce development.
This brochure was showcased at the 2nd International Symposium on Community Health Workers, November 22 -24, 2019 in Dhaka, Bangladesh.
Associated Content:
A Vision for Professionalizing Community Health Workers to Strengthen Health Systems
Health Workforce Skills Mix and Economic, Epidemiological, and Demographic (EED) Transitions in LMICs: Analysis and Econometric Modeling 
HRH Optimization Tool for Differentiated ART Service Delivery (HOT4ART)
Local Leaders: Untapped Resources for Family Planning
USAID Global Flagship Convenings on CHW-Focused Investments
WHO Community Health Worker Guideline Recommendations Using HRH2030's Life Cycle Approach
Country: Global
Resource Type: Other
Topics: Strengthening Community Health Worker Programs, Leadership and Governance
DOWNLOAD BROCHURE